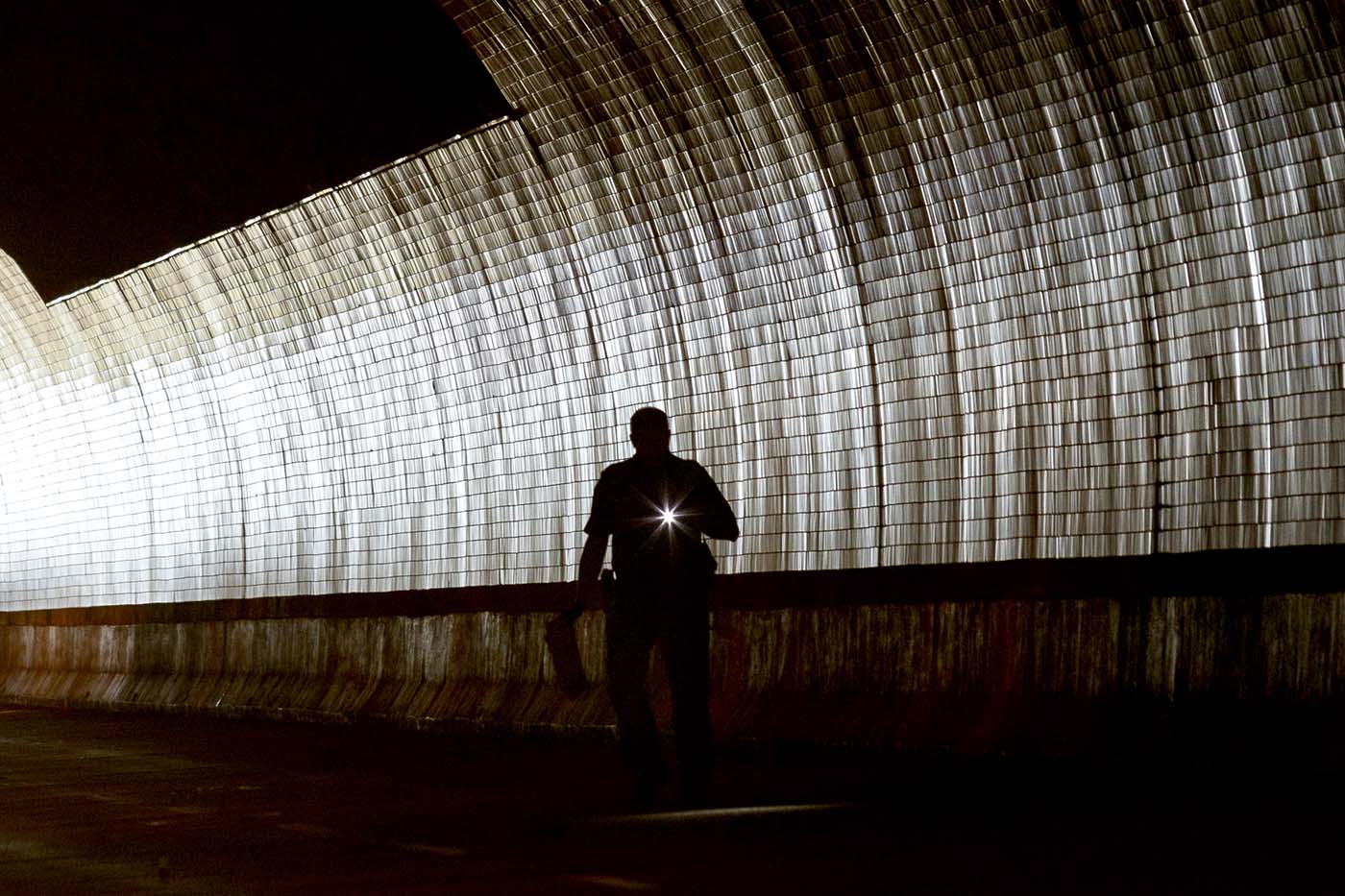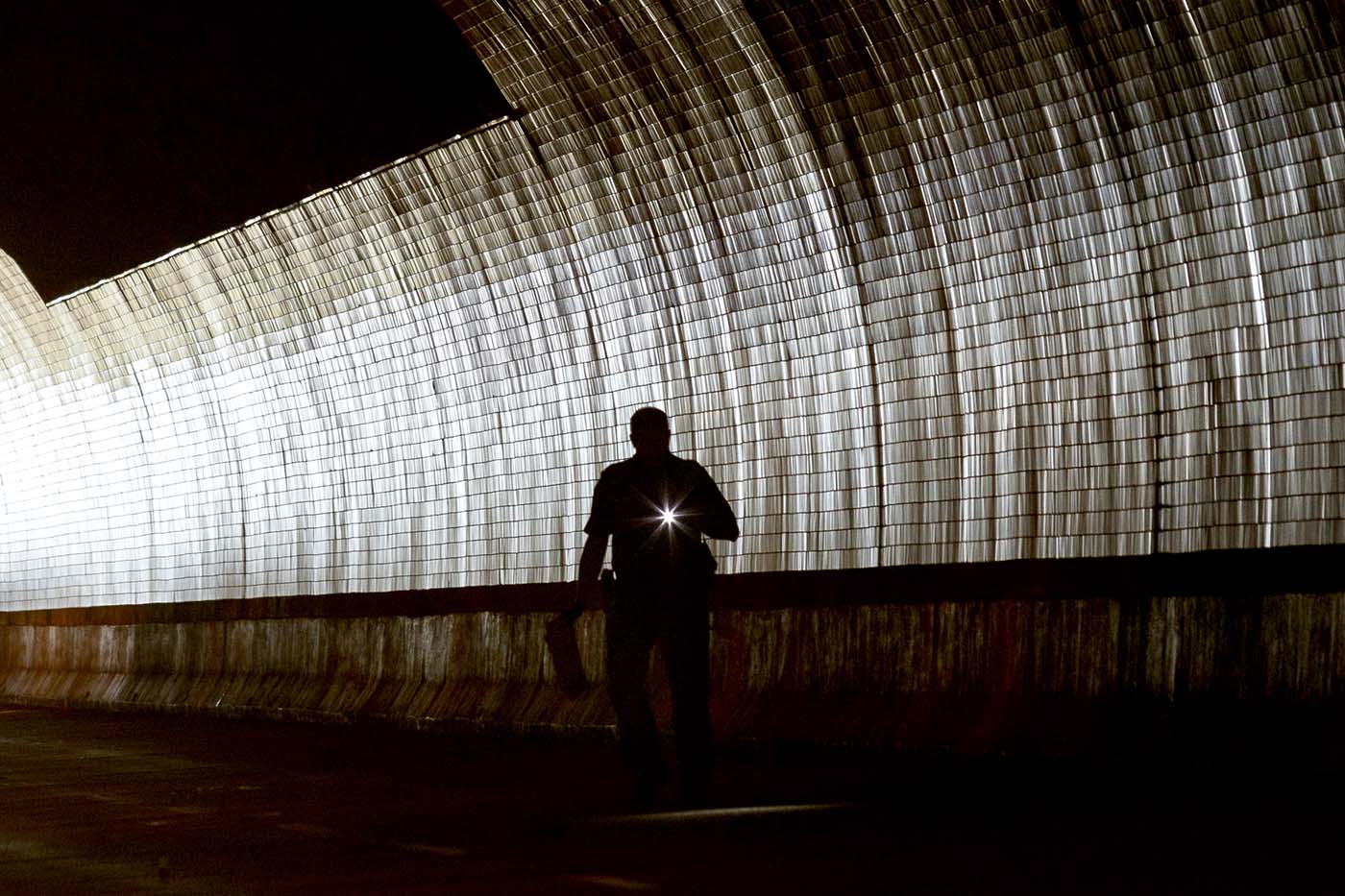 When a shot is fired
Gun violence costs billions to police and the criminal justice system
By Emmett Gienapp and Rosana Hughes
A costly domino effect is triggered the moment a single bullet is fired in Chattanooga.
The impact of gun violence each year on police and the criminal justice system in the United States is $7.5 billion, according to economist Ted Miller, an injury and violence cost expert with the Pacific Institute for Research and Evaluation.
"We all are at risk. Gun violence … knows no neighborhood boundaries," he said.
The city has been working in recent years to tackle the issue. As part of that effort, Chattanooga Mayor Andy Berke launched the Violence Reduction Initiative in 2014 aimed at targeting gang violence. In the time since, more than $1.5 million has been poured into the program with mixed results.
The total number of victims from shootings involving gang members in 2017 was 74, just seven fewer than the tally for 2014. The victims from gang-related shootings jumped up to 90 in 2015 and 107 in 2016, a year that saw an unusually violent gang war, before falling off again. In 2018, there were 39 criminal gang-related shooting victims.
There had been 31 total shooting victims by March 27 last year compared to 26 this year. Nine of the shooting incidents this year have been gang-related compared to 11 the year before.
City officials don't credit the drop to any one specific effort, but say the VRI is just "one tool in a toolbox" used to fight crime.
When a shooting happens, the tab often falls to local governments and residents to pay.
Rushing to the scene
Each year, the Chattanooga Police Department investigates more than 100 shootings overall, including accidental ones and those deemed justified by police. In 2018, there were 130; of those, 20 people died.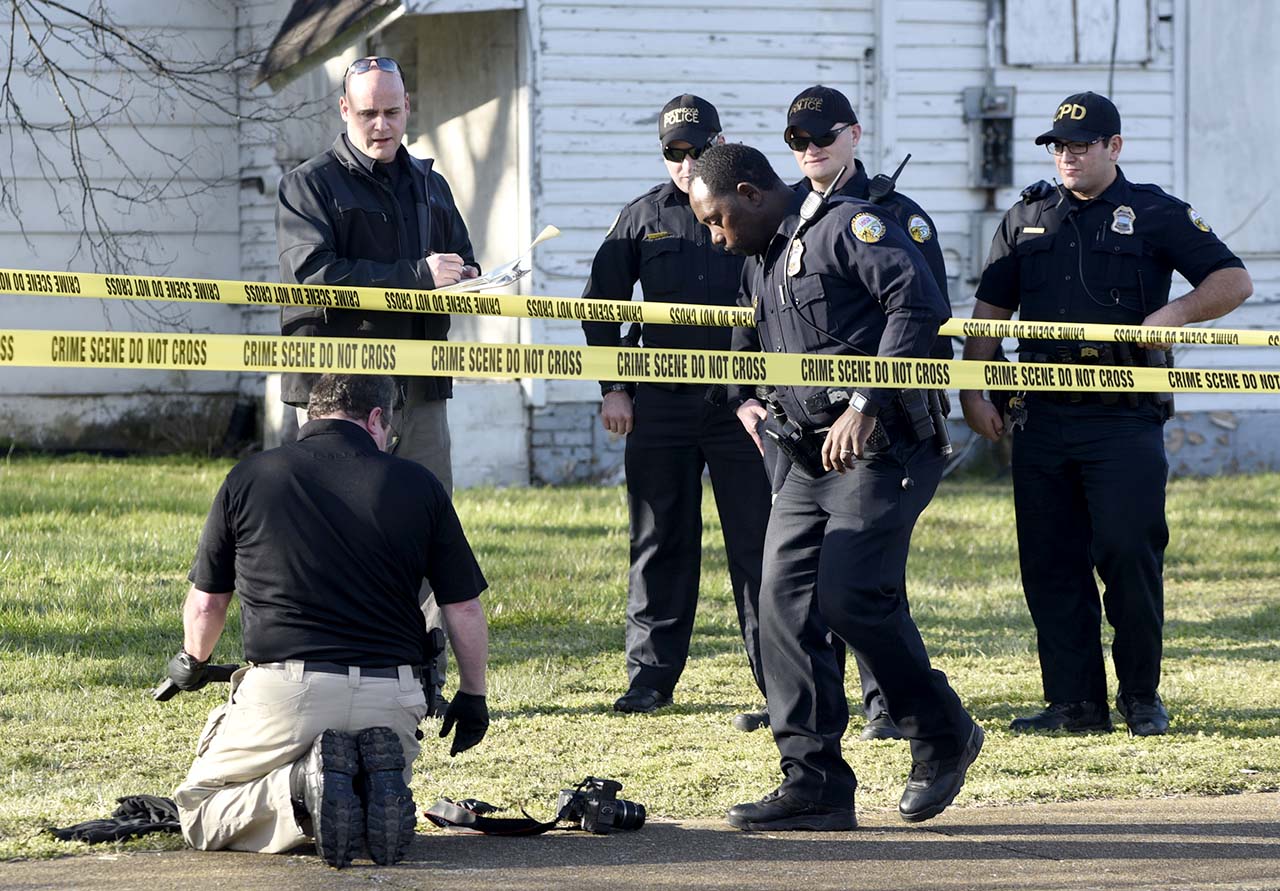 Most major units of the department are involved in a case from the time a trigger is pulled. This is usually how it plays out:
A panicked call comes in to 911 dispatchers reporting gunfire.
Emergency responders begin to mobilize.
First on the scene are usually patrol officers, the rank-and-file officers who make up most of the department and respond to everything from reports of shots fired to active-shooter situations. They assess the situation, locate victims or suspects and take action to make sure there is no longer a threat.
If someone has been injured, first responders immediately begin their potentially life-saving work.
Meanwhile, police begin cordoning off the scene with crime scene tape, tracking everything that happens in the area.
Next up are the homicide investigators, who work shootings even if they're nonfatal. It's common for several to canvass the neighborhood and interview witnesses while separate crime scene investigators collect and document evidence. It can be an hours-long process.
The Victim Services Unit, launched in 2016, works alongside officers and investigators to connect with victims and families, helping them navigate one of the most traumatic events of their lives.
Even once the crime scene is cleared, the investigation continues.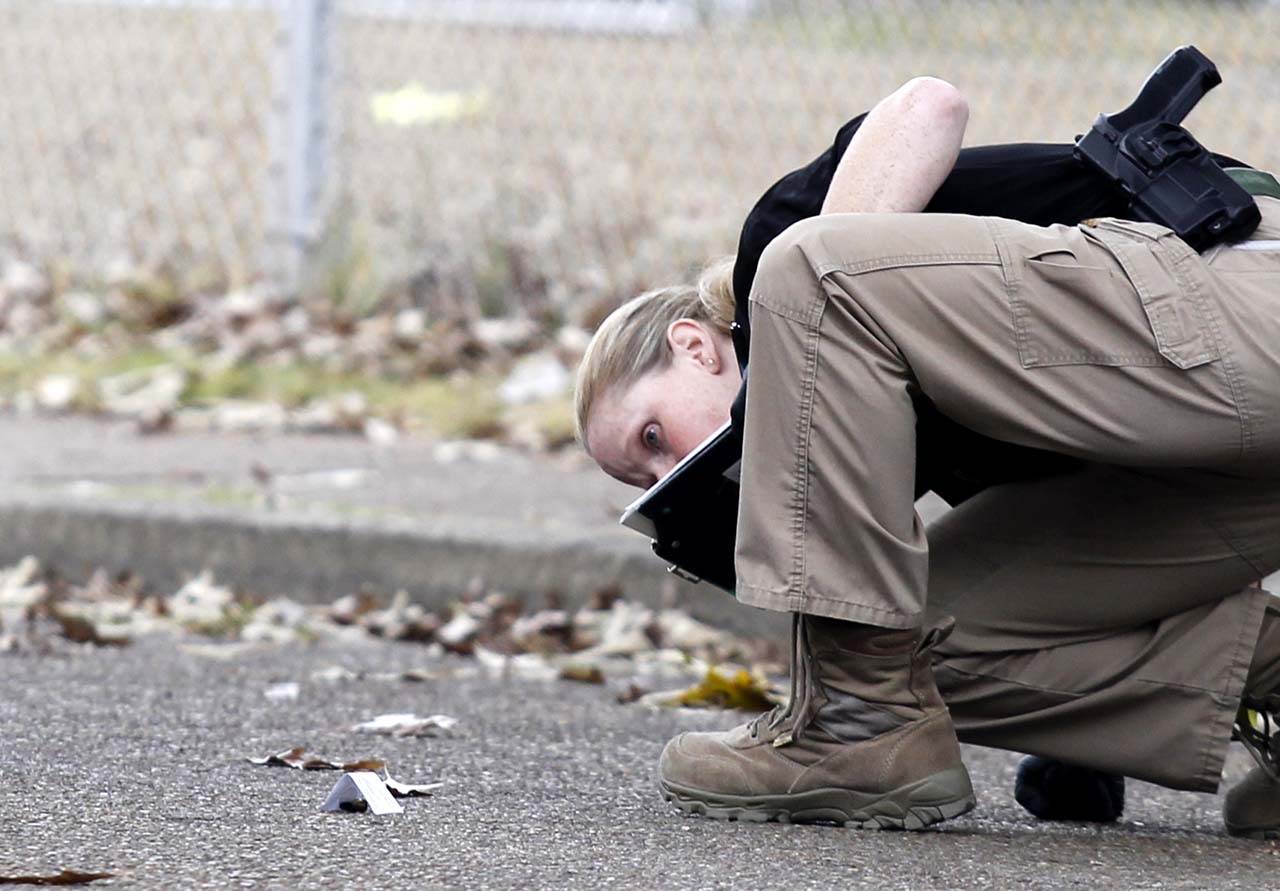 Shell casings or firearms will be sent to gun unit investigators, who will process the items within about 24 hours. The information will be cataloged in the National Integrated Ballistic Information Network, which can determine whether recovered firearms were used in earlier crimes.
In the meantime, crime analysts in the department's Real-Time Intelligence Center review video evidence from nearby police cameras. They also can examine crime data to determine whether an incident is part of a larger trend.
Investigators will process whatever evidence has been collected, sending it to the Tennessee Bureau of Investigation's crime lab in Nashville for more testing or storing it locally in the department's massive property evidence room until it's needed in court. At any given time, the department is responsible for the safe preservation of thousands of pieces of evidence, all of which have been carefully cataloged and stored.
A case isn't finished until it's been adjudicated in court, and that process can take years.
It takes a massive team to make it happen. And it's expensive.
"That's not three or four officers walking in and going, 'We had a shooting. All right, we'll get to work on it,'" said Chattanooga Police Chief David Roddy. "That's 25 people, give or take, that are working to figure out why a member of our community was harmed. It takes people and it takes dedicated resources, and that costs money."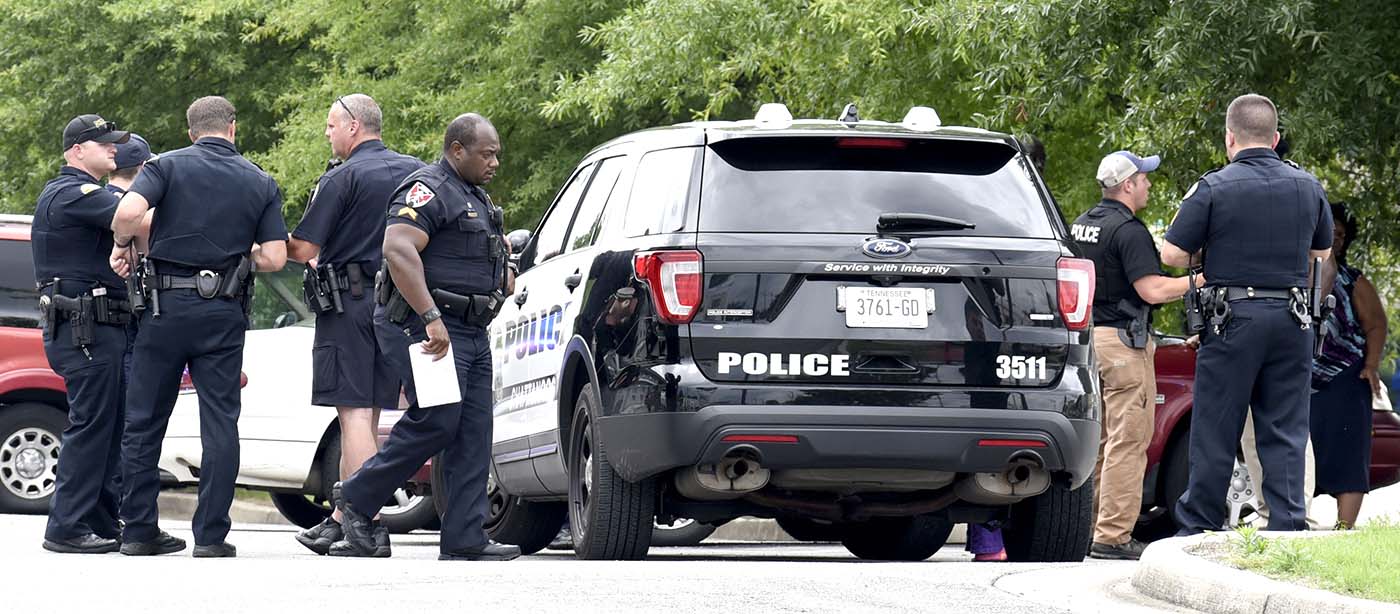 The lion's share
The Chattanooga Police Department's budget accounts for 27 percent of the city's $273.6 million budget. At $73 million for the 2018-2019 fiscal year, public safety is among the most costly city departments.
Roddy, who took over the department in 2017, says that's what it takes to protect a city of 179,000 people and drive down violent crime.
"If you want [a high] clearance rate, that's what brings it," he said. The department's clearance rate — the percentage of closed cases — was 87 percent in 2018, up from 70 in 2017.
Of the annual budget, the lion's share of costs are tied up in officer pay, insurance and pension payments, Roddy said.
In mid-March, there were 441 officers employed with the Chattanooga Police Department. (The department is budgeted for 500, but the number fluctuates often based on retirements and officers who quit or get fired.) Salaries range from $35,141 to $140,937.
Then there's the cost to keep the department's fleet of vehicles on the road, an expense budgeted at $5.6 million a year.
This list goes on and on until you reach the $73 million.
And when a shooting happens, those costs climb.
The department's 2018 overtime expense was just more than $1.6 million. It's unclear how much of that was due to homicide investigations. The total also includes overtime for community events, special events — Ironman and Riverbend — and court hearings. Some of this money is reimbursed by federal partners.
It can take investigators hours to process a shooting scene. Chattanooga crime scene Sgt. Joe Montijo said it's not uncommon for a crime scene investigation to take 10 to 12 hours, because future prosecution depends on investigators properly performing their roles.
"Everything we do is very meticulous from Point A to Point B," Montijo said. "There's definitely a protocol that we follow when we get on a scene so that nothing is missed and we don't risk losing a piece of evidence, because you only have one shot at actually collecting something."
"Are [shootings] important? Yes. Do they take up a significant amount of our time? Yes. Are they preventable? That's the magic question," he added.
Sgt. Josh May, supervisor of the Chattanooga Police Department's gun unit, is trying to find the answer. He spends a lot of time with people affected by shootings. And he's one of several officers who makes personalized visits to gang members and tries to convince them to walk away from criminal activity.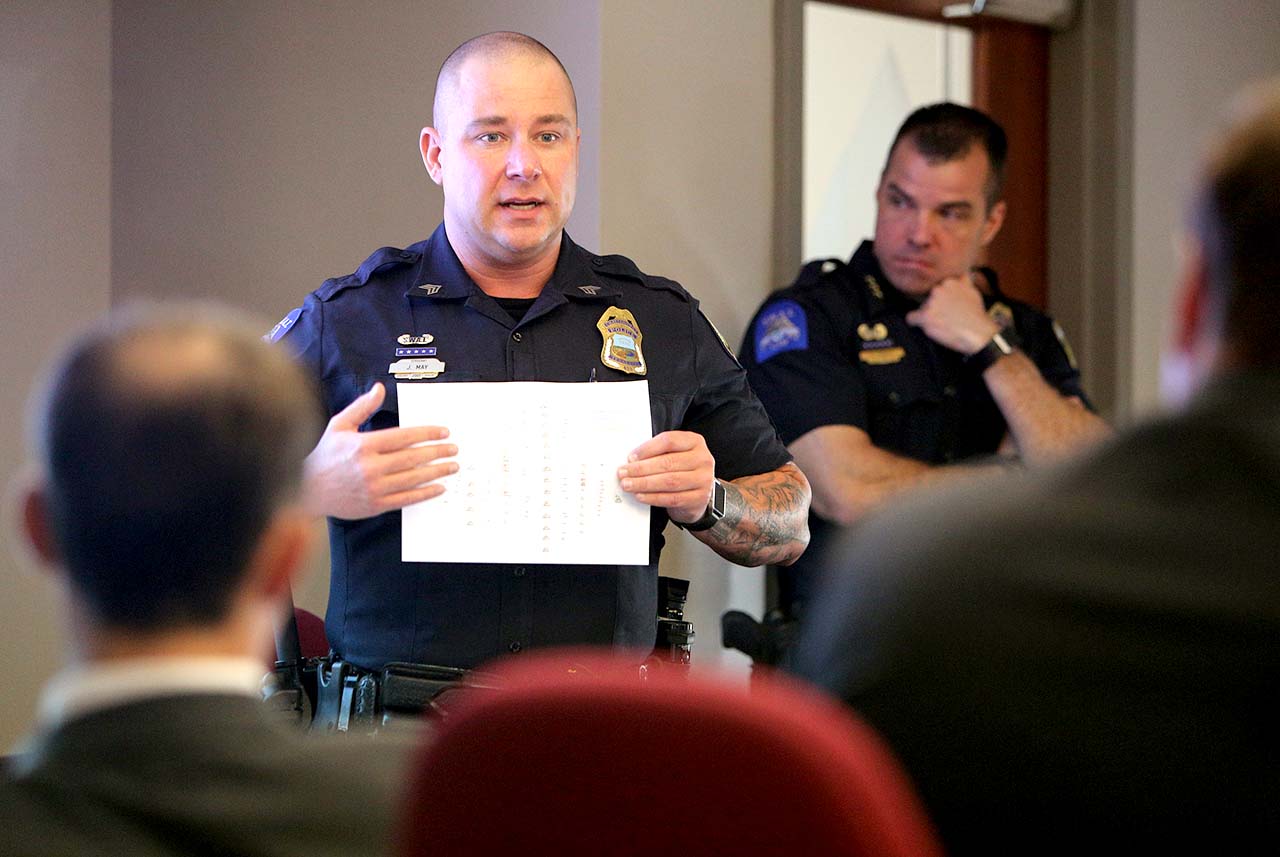 "The potential out here is untapped. If your day-to-day life revolves around having to carry a pistol, dodging police officers, dodging people out here trying to kill you, making your money illegally but doing it in a way that doesn't draw heat and attention to yourself, you can't do a 9-5 [job]," he said.
In 2017, May went to the Chattanooga City Council with a plan.
He said the police department could do more to combat violent crime by focusing on evidence gathered at scenes and leveraging available technology to track gun crimes.
Council members granted his request.
At $1.7 million, the gun unit was the single largest increase in personnel expenses for the department in 2017.
But that expenditure covered the cost of 15 new sworn positions, including investigators, a set of rapid response teams to follow up on reports of shots fired throughout the city and a staff member to enter data into the National Integrated Ballistic Information Network, which has given the department a better ability to track violence.
Roughly 1,300 shots-fired calls are reported in Chattanooga each year. There are several each night, May said. Calls may be for anything from real gunshots to a car backfiring or anything else that produces a loud bang.
Of the calls that come in, only about 20-25 percent actually have evidence of a gun being fired, and sometimes there are multiple calls for one incident.
"The shots fired at 3 in the morning that families have to endure, houses being shot up, vehicles being shot up — those don't make a whole lot of headlines, but they still happen," May said.
Before the gun unit was formed, there weren't officers dedicated to investigating those reports, meaning many of those calls didn't get the scrutiny they do today. Now, each call gets at least an initial response, and if evidence is found, members of the gun team will follow up.
The department is also learning to get ahead of the problem by trying to identify individuals who have demonstrated violent patterns.
"They haven't shot anybody per se, but they've been accused of pulling guns on people," May said. "Maybe there's no charges because it's hearsay or you have a lack of cooperation from certain victims, but what [investigators are] doing is going back" and connecting the dots to either make a case against a suspect or stop the violence before it happens.
Even once the police investigation ends, the cost to the public continues.
Each case involving a firearm injury or resulting from gun violence costs the U.S. criminal justice system $49,507, Miller said.
When a shooting suspect is arrested, Chattanooga police take them to the Hamilton County Jail, where they are booked and held.
In January, 78 percent of the jail's population was pretrial detainees — those who can't afford bail — according to the Tennessee Department of Correction's jail summary report. At the Silverdale Detention Center, pretrial detainees made up 42 percent of the population.
From 1999-2009, nine out of 10 defendants nationally were unable to make bail due to financial reasons, states a 2013 report from the U.S. Department of Justice.
The cost of housing those pretrial detainees adds up, and it directly affects the pockets of local governments and their residents, according to a 2018 study by the Sycamore Institute, a public policy research center.
"Incarceration costs taxpayers a lot of money each year to house people in state prisons and local jails," said Mandy Pellegrin, policy director for the institute.
A survey by the Vera Institute of Justice found the average annual cost per inmate in Tennessee was about $23,468 in 2015. (The state does not reimburse counties for housing inmates awaiting trial on felony charges or convicted felons not yet sentenced. Still, though, any money that comes from the state level comes from those who pay state taxes, Pellegrin said.)
At an incarceration rate of 468 per 100,000 residents, that comes out to $110 per year per Tennessee taxpayer.
Most Tennessee counties charge each inmate a fee each day they are incarcerated in addition to the court costs and any probation fees, Pellegrin said.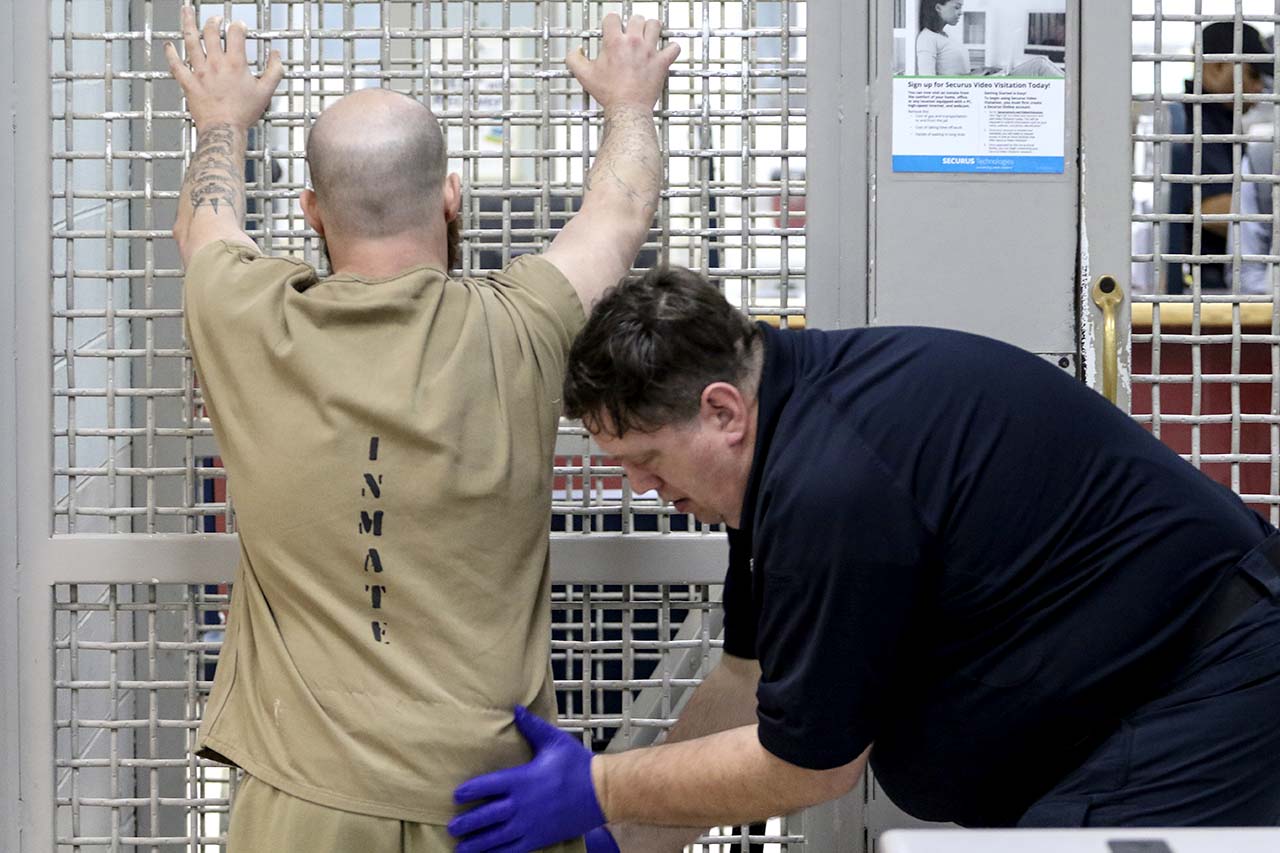 "[Inmates] might have to call on family, or if they have any savings set aside," she said. But in the event that they can't pay, local governments have to eat the cost.
"It would be a debt for that person, and in the meantime, that cost would fall on the shoulders of local taxpayers," Pellegrin said.
'We need you to put the guns down'
On Oct. 4, 2018, 24 known gang members in the city of Chattanooga sat in chairs next to one another at the Chattanooga Urban League's building off Martin Luther King Boulevard downtown. They were there for a "call-in" meeting, which is a crucial component of the Violence Reduction Initiative.
Offenders attend "call-ins" where local officials, victims, ex-gang members and community leaders try to reason with them, and gang members — who are required to come as a condition of their probation — are told if they continue to commit violent crimes, they will be prosecuted to the fullest extent of the law. About 100 people filled the room that October day.
The city tries to do a call-in meeting a few times a year, and officials have said they've given the message to roughly 218 people since the VRI's start in 2014.
"We need you to put the guns down," said Troy Rogers, public safety coordinator with the city. "You are a blessed individual, you are a leader. Let us help you do more than survive."
Sgt. Greg Wilhelm from the Chattanooga Police Department's organized crime unit displayed the faces of homicide victims over the years on a screen in front of the offenders. He was one of a dozen or so speakers that evening.
"This effort is time-consuming and occupies community resources," Wilhelm said. "Gun violence is never going to be the answer."