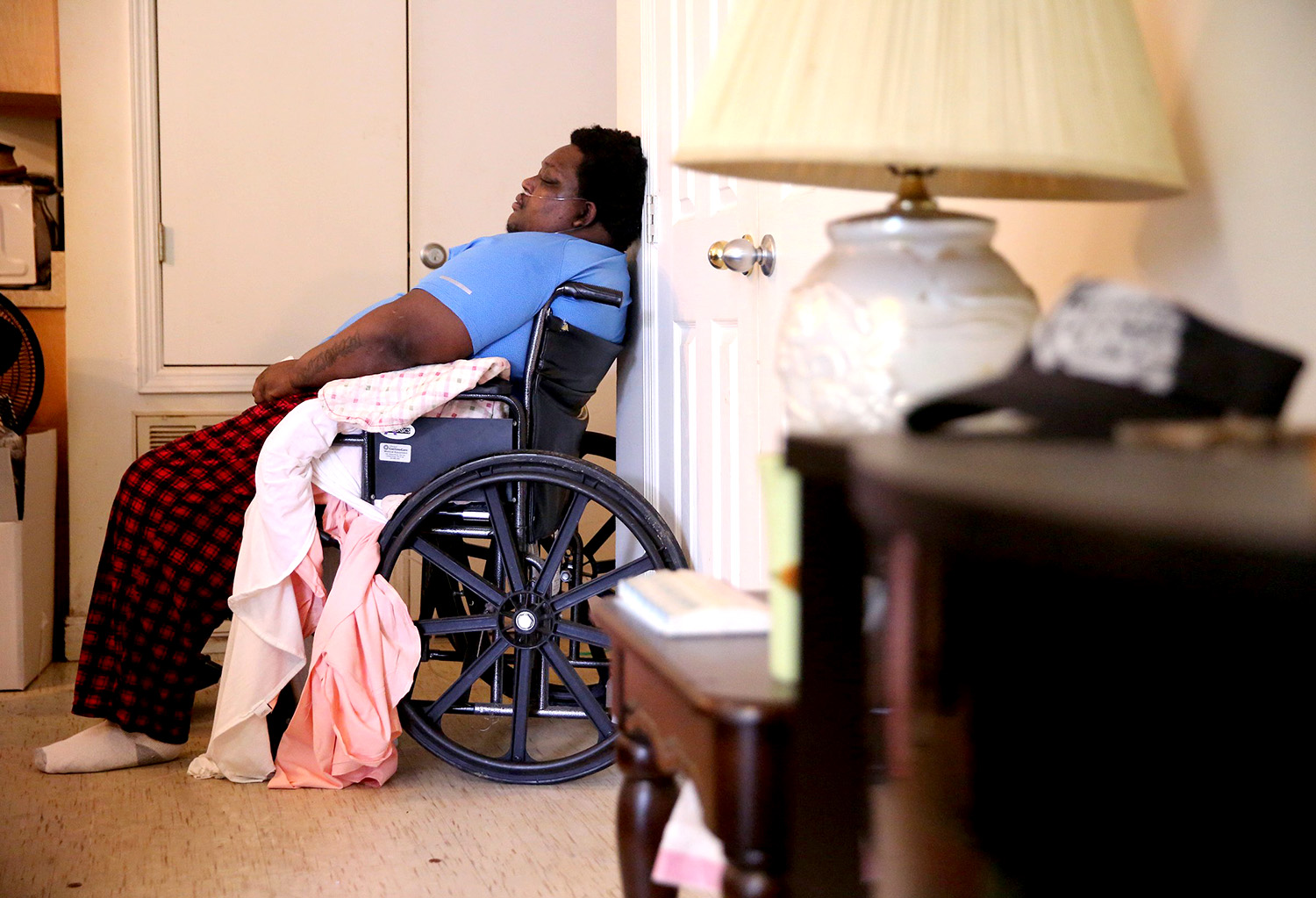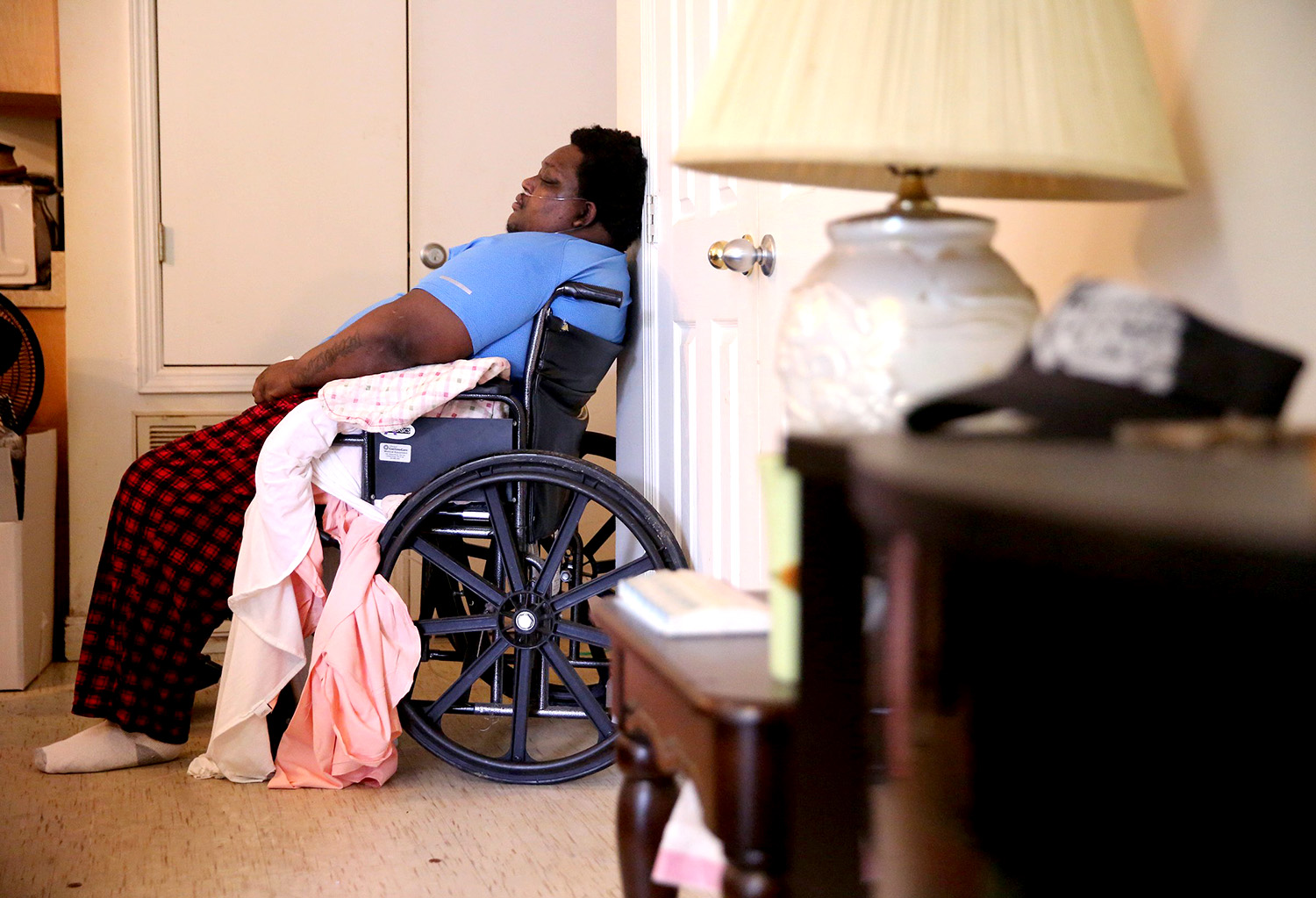 LIVES TORN APART
FAMILIES LEFT WITH EMOTIONAL AND FINANCIAL TOLL OF GUN VIOLENCE
By Emmett Gienapp and Elizabeth Fite
David Green can move the toes on his left foot if he concentrates.
It's not easy. Some motions are painful, and the 33-year-old strains to perform even basic tasks, but he's not one to complain.
He says he counts his blessings every day.
It's been almost two years since eight bullets tore through his body, shredding his spine and internal organs. His grandmother says he has nine lives. One bullet that surgeons weren't able to remove remains lodged in his spine, leaving him paralyzed from the waist down.
Green's circumstance is not unique. He was one of 138 victims of criminal shootings in Chattanooga in 2017. Of those, 29 died and 109 were injured.
Gun violence across the United States not only leaves physical wounds, like Green's, it can financially devastate victims and their families, who face enormous medical bills and lost wages.
It also costs hospitals, insurance companies, businesses, the prison system, city governments and public safety agencies — and that's just scratching the surface.
Shootings carry an estimated annual price tag of more than $260 billion in costs across the United States, according to economist Ted Miller, an injury and violence cost expert with the Pacific Institute for Research and Evaluation. Tennessee ranked No. 7 out of the 50 states for the highest costs of gun violence and firearm-related injuries at $8 billion, based on 2014 injury data and adjusted for 2018 inflation.
Each year, the cost of firearm injuries in Tennessee amounts to $1,248 per resident.
Nationally, acute and ongoing medical costs for firearm injuries, like Green's, cost the country $2.1 billion.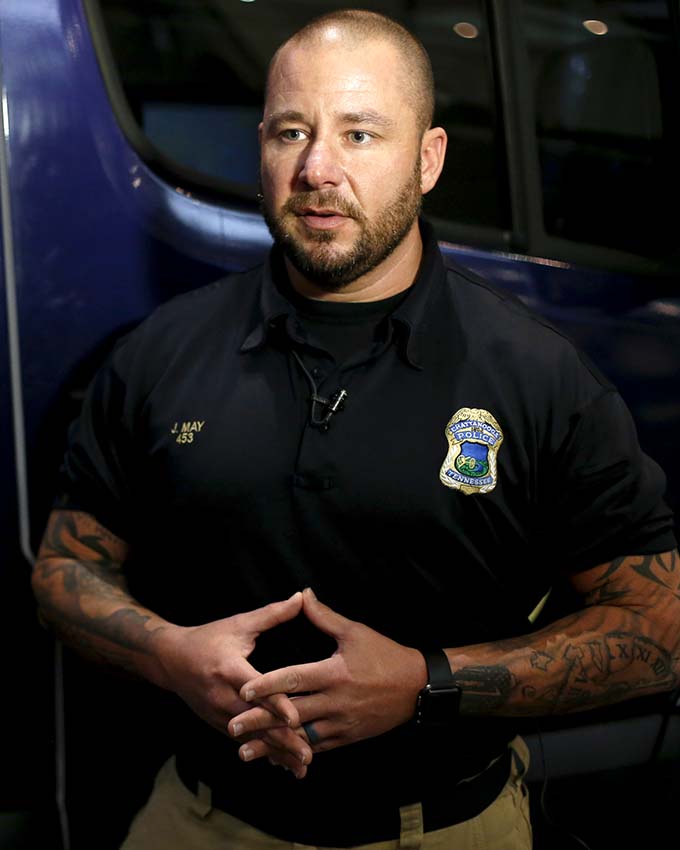 The costs to police and the criminal justice system — such as court fees, probation, jails — total $7.5 billion in the United States.
Then there's the loss in wages for the victim, cost to the employer and losses to quality of life. Indirect costs such as those amount to more than $245 billion nationally, or about $671 million a day.
Sgt. Josh May, supervisor of the Chattanooga Police Department's gun unit, has dedicated his career to crime suppression. To May, it doesn't matter if it's just a flesh wound — physically and emotionally, that person will never be the same again.
"It affects so many people, whether it's your insurance rates going up or it's a knock on the door at 3 in the morning from someone there because your child was shot," May explained. "It doesn't matter what your background is, your personality, what you're into — no one should be murdered in the street."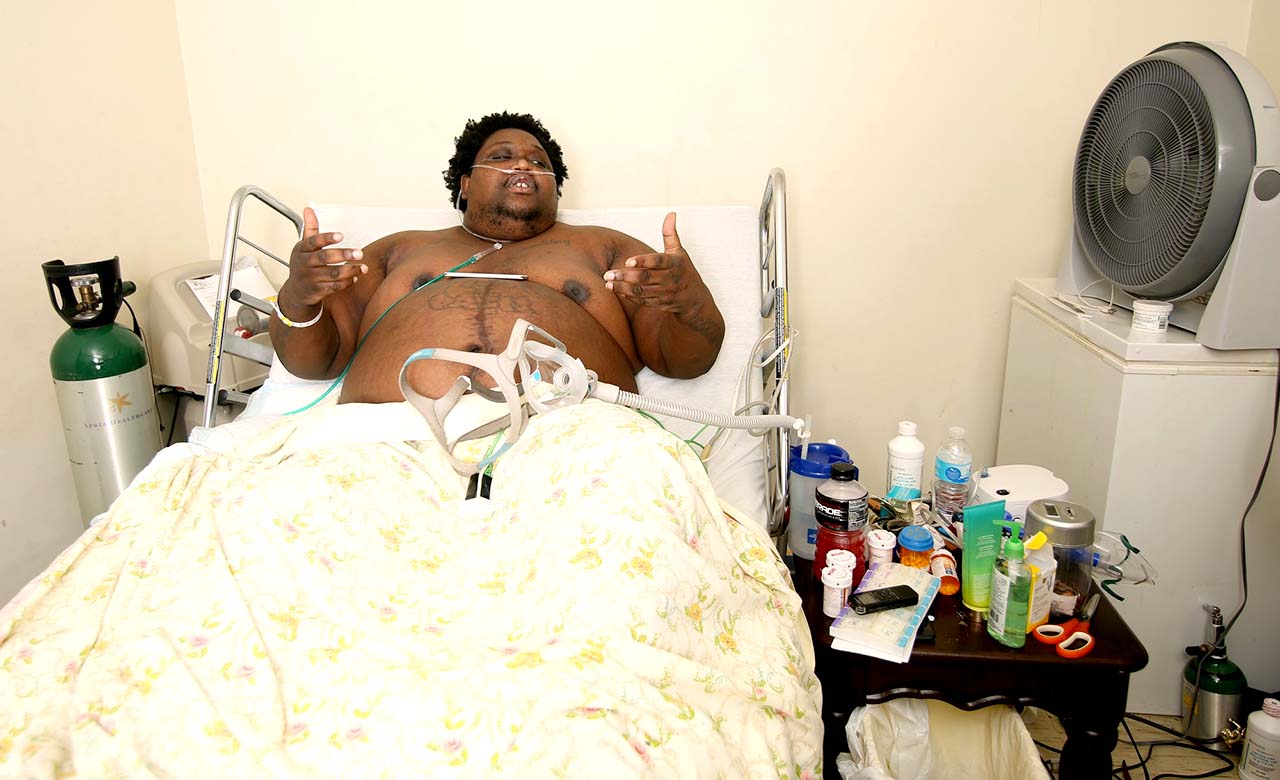 'God is keeping me here for a reason'
On March 31, 2017, Green was driving across town with his girlfriend to see his father. When they pulled up to a red light at the intersection of West 38th Street and Market Street, Green looked to his left at a car that had pulled up alongside them. He saw a man hanging out of the passenger window, aiming a pistol at him.
"I heard the first shot before I could say anything," he said.
The shooter — a 16-year-old — unloaded into Green's car.
Of the bullets that found their target, one hit his shoulder, two more went through his leg and the rest struck his torso. He said he thought of the four children he'd been raising with his girlfriend and rolled over to shield her as well as he could.
One of the shots that hit his leg caused him to jam his foot on the gas, accelerating the car through the intersection until it collided with a small light pole across the street.
"When I hit the pole, I was actually looking back at him. I'm literally looking this man in his eyes," he said. "Then I just sat there behind the wheel, trying to breathe."
The suspect, who police say Green knew through an ongoing gang dispute, fled immediately after the crash. He was later arrested and charged with attempted murder.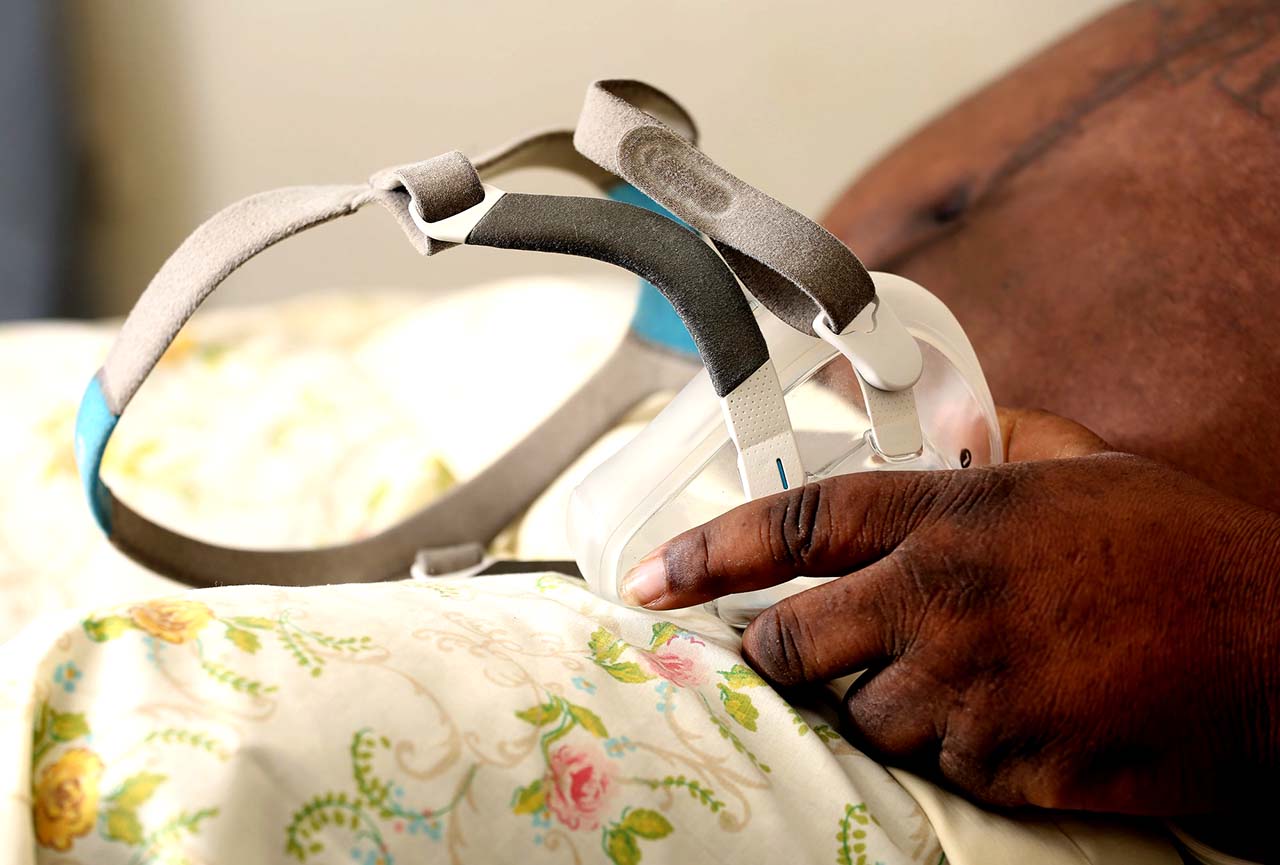 Like many shooting survivors, Green is now shackled to tens of thousands of dollars in medical bills.
Before he was shot, Green worked in landscaping and at a fast-food restaurant — two physically demanding jobs that required him to be on his feet. Now, he lives with his grandmother and scrapes by each month on a $500 disability payment.
Green doesn't know how he and his family are going to pay his ongoing medical bills, but he says he'll keep counting his blessings.
"God is keeping me here for a reason," Green said. "The reason and purpose I don't know, but he's keeping me here."
'Some mothers have to bury their children'
Some shooting victims escape with minor graze wounds. Others incur life-altering physical or psychological injuries. The costs they and their families bear depend largely on the extent of damage done to their bodies.
Dr. Robert Maxwell, a trauma surgeon at Erlanger Medical Center, said that although people realize shootings can be life-threatening, they're often ill-prepared to deal with the fallout that comes with lasting injuries.
"That's part of the tragedy of being a trauma patient — you can be perfectly healthy one minute, then sustain a [serious] injury from a gunshot wound or car wreck, and it's hard for families to deal with that," Maxwell said.
The average emergency room cost for a shooting victim ranges from $5,000 to $100,000 — depending on the type of injury — according to a study published in the journal Health Affairs. And many of those patients are uninsured.
Victims with extensive injuries often can't work the same jobs they did before, if they can work at all. So in some cases, the financial burden falls to their families.
Taxpayers, too, foot the bill when shooting victims need government support to pay for their costly care. Miller's analysis found the total cost to the government for Medicaid and other general medical care was $1.2 billion nationally.
Suppose you have no health insurance, are hospitalized for a firearm injury and qualify for Medicaid, the hospital may convert you to Medicaid to pay your hospital bill, according to Miller.
"Government then pays not only for your firearm injury treatment but for all your health care needs, including care you delayed because you could not afford it," he said.
Since Tennessee hasn't expanded Medicaid, most childless adults without disabilities are ineligible for TennCare — the state's Medicaid program that covers low-income children, pregnant women, parents or caregiver relatives, seniors and people with disabilities. Green became eligible once his injuries left him paralyzed.
Green is now enrolled in TennCare, Social Security disability and TennCare CHOICES, a state-funded program designed to keep adults with disabilities out of nursing homes.
The average individual with health insurance — or private pay — can expect to pay around $80,000 for a semi-private room at a nursing home. Under TennCare, a patient is covered for an average of $60,000 a year for the same level of care, so the nursing home loses money on TennCare patients.
With those costs being so high, caring for patients at home if possible is a more economical approach for the health care system and helps limit taxpayer burden.
Under CHOICES, the state paid an average of $19,300 per patient for in-home services in 2018, but a gunshot victim with significant medical needs is likely to cost the state more, according to a TennCare spokesperson.
Chrystal Brown, a mother of four, has struggled to make sure her son, Demarcus Brown, is taken care of since being shot in May 2018.
He was hit in a drive-by shooting in the 1200 block of Grove Street. The bullet traveled through his right arm and torso, lodging on his left side under his rib cage.
He survived, but he's paralyzed from the waist down.
She said it's hard to make ends meet with her son's medical costs while she's working at a gas station. She's lost track of how many thousands of dollars she's had to pay.
"It's a lot of out-of-pocket expenses. It's been hectic, and I even did a GoFundMe page to help with some of the expenses. He's had a couple friends come through to give $5 or $10 or whatever to try to help out," she said.
---
"It's stressful. It is really stressful. I don't ever get a break, and I have to maintain and pay bills. It's an ongoing process, and there's no stopping."
---
"I'm constantly ripping and running. I'm tired. I can't do nothing but try to go give him a bath, give him a shot and make sure everything's on. It's stressful. It is really stressful. I don't ever get a break, and I have to maintain and pay bills. It's an ongoing process, and there's no stopping."
His family has rushed him to the emergency room three times since the shooting for various complications related to his injuries. To top it off, she was recently hospitalized herself.
Chrystal Brown has made some progress on paying down her son's medical bills, but she was already in a tight financial state before he was shot. She lost both her job at Amazon and her car two months before the shooting. And she's undergone surgery.
Still, she's thankful her son is alive.
"I can't even imagine what the mothers who had to bury their kids feel. I will take him not walking any day, rather than having to bury my child. I'm blessed. I'm thankful. I'm grateful," Chrystal Brown said. "This, what I'm dealing with, ain't nothing. If you ask me, this is lightweight because some mothers have to bury their children. That's painful."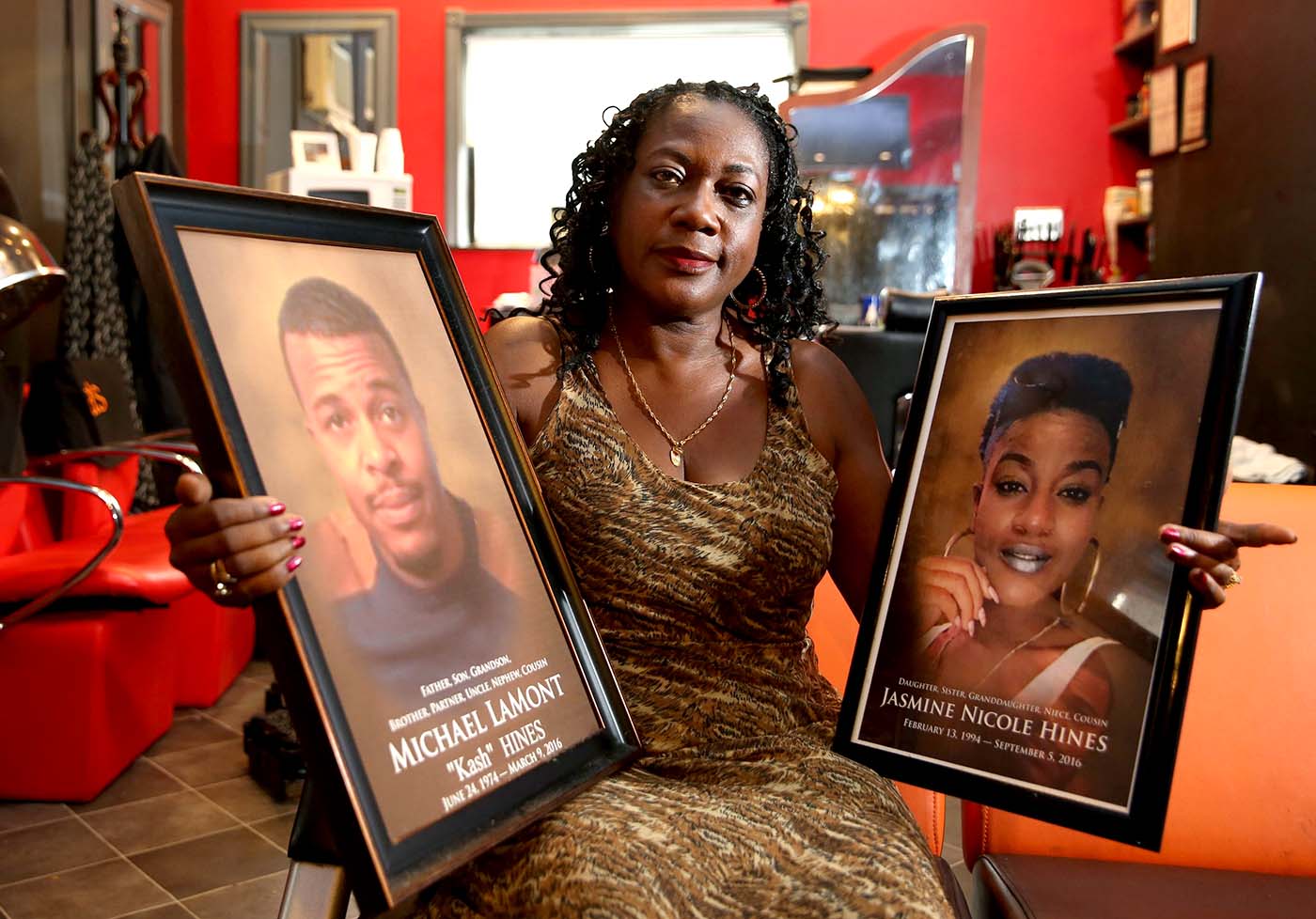 'It changes every piece of you'
On March 9, 2016, two men walked up to Linda Hines as she stood in the yard of her Brainerd home. They asked where her eldest son, 41-year-old Michael Hines, was.
She told them he was in the garage — one man stayed with her while the other went inside.
Then, police say, the man demanded money from Michael Hines before shooting and killing him.
The suspects fled the scene and have never been found.
Just six months later, tragedy stuck again for the Hines family.
Michael Hines's daughter, 20-year-old Jasmine Hines, was gunned down on Labor Day that year at a home on Pinewood Drive. Another person also died in the shooting.
Linda Hines, still mourning her son's death, now had to set about burying her granddaughter.
"It changes every piece of you and everyone surrounding you," she said. "A mother shouldn't have to lose her son. She shouldn't have to lose her granddaughter. You shouldn't have to go through that. You shouldn't, but we do, and I realize I'm not the only one."
---
"A mother shouldn't have to lose her son. She shouldn't have to lose her granddaughter. You shouldn't have to go through that. You shouldn't, but we do, and I realize I'm not the only one."
---
Jasmine Hines' killer, Stephen Mobley, turned himself in to police just days after the slaying. In 2018, a jury found him guilty of double homicide. He is now serving a life sentence.
During the trial, Linda Hines said Mobley's mother approached and asked her not to hold any ill will toward her for her son's actions.
Linda Hines said she prays for both of them, especially Stephen Mobley, "because he's the one that has to get his soul together for the Lord."
But her child and grandchild are gone, and as Linda Hines has learned, it's expensive to lay a loved one to rest. Each funeral cost about $9,000.
She's operated a hair salon out of her home for the last 15 years, but now she's on disability after decades of working on her feet and breathing in toxic fumes. She struggled to pay for back-to-back funerals on top of her own living expenses.
"When you have to borrow money for funeral expenses, that affects your life. You're not expecting that to come up," she said. "If you don't have money, you have to ask for it, you have to do GoFundMe. I had to do that with my granddaughter. I had to do that with my son. You borrow money, you get in debt, and years later you're still trying to get out."
She gathered loans from a handful of private lenders around Chattanooga until she could pay for the funerals.
"When you can't afford to pay [the bills], they send them to a collection agency," she said. "Then that's on your credit report, and then your credit score is going down and you've still got to pay these loans, plus trying to pay your regular bills every month ... What do you do?"
'I've walked in those shoes'
Laronda Townsend's son, Darrius Townsend, was just 17 when he was shot and killed by childhood friend Lonta Burress in 2011.
The two teens, police say, were gang members, and the shooting may have stemmed from stolen drugs. Two years later, 19-year-old Burress pleaded guilty to voluntary manslaughter.
These days, Laronda Townsend is helping others who are dealing with similar tragedies.
She's head of the Chattanooga chapter of Mothers Against Senseless Killings, a community advocacy group that offers support to victims' families.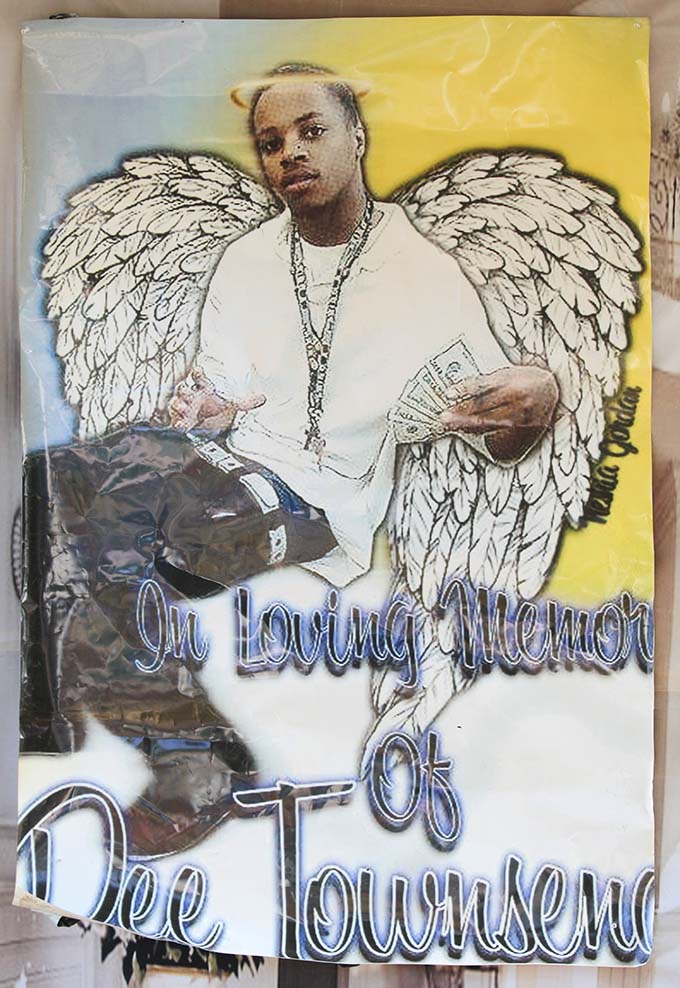 The organization was started in Chicago in 2015 by Tamar Manasseh as a way to interrupt violence and crime on the local level by developing deeper relationships between community members, connecting residents across city blocks and street corners through block parties and cookouts.
In July 2018, two dozen family members of shooting victims joined Townsend on the Tennessee Riverwalk for a block party. She throws one every year on her son's birthday.
Women walked around in teal MASK shirts, organizing lunch, as a DJ played music and children ricocheted around a bouncy castle.
Townsend said she knows what some local families are going through. She knows the struggle.
"If it weren't for my family, the community, the people that came and donated, his teachers, I don't know what would have happened," she said. "Some people don't have that support. I want to be that support to any other family that needs it because I've walked in those shoes."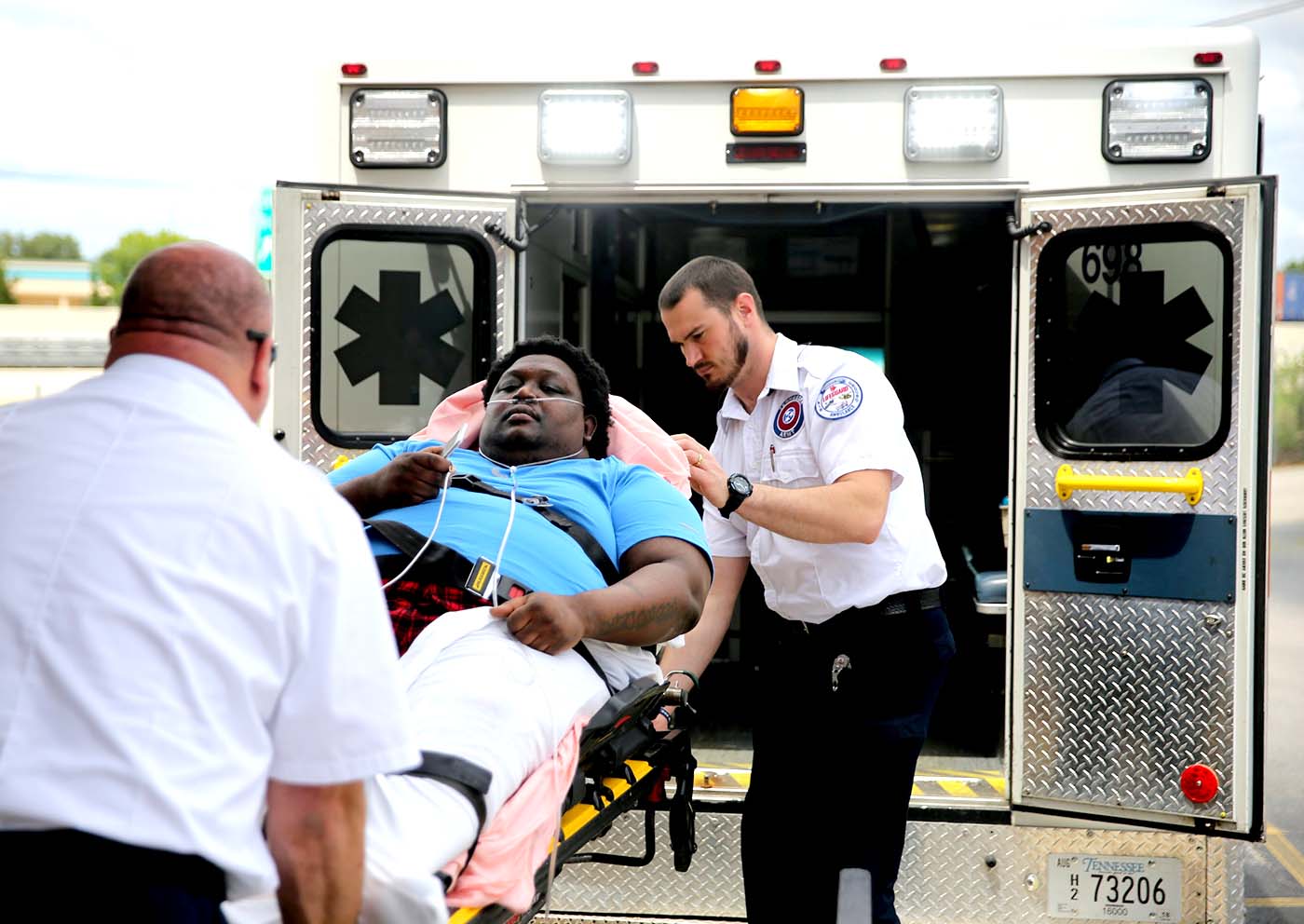 'I can get through this'
David Green's mind raced in the moments after the shooting.
As he lay in the car, he stared at the roof and thought about his children, their futures.
"You think about the little stuff in that moment like, 'How are my kids going to handle going to school and having to talk to everyone about their daddy's death?'" he said.
Faces of paramedics soon appeared. Then he remembers lights above an emergency room exam table. Then everything went black.
Today, he thanks God his children didn't have to mourn his death. But the life he once knew is gone.
Before the shooting, he had a job. He enjoyed taking his children swimming and walking across the Walnut Street Bridge.
Now, he's adjusting to a new normal that doesn't include any of that.
He remained hospitalized for awhile after the shooting before being transferred to an assisted-living facility. In July 2018, two paramedics transported him to his grandmother's home.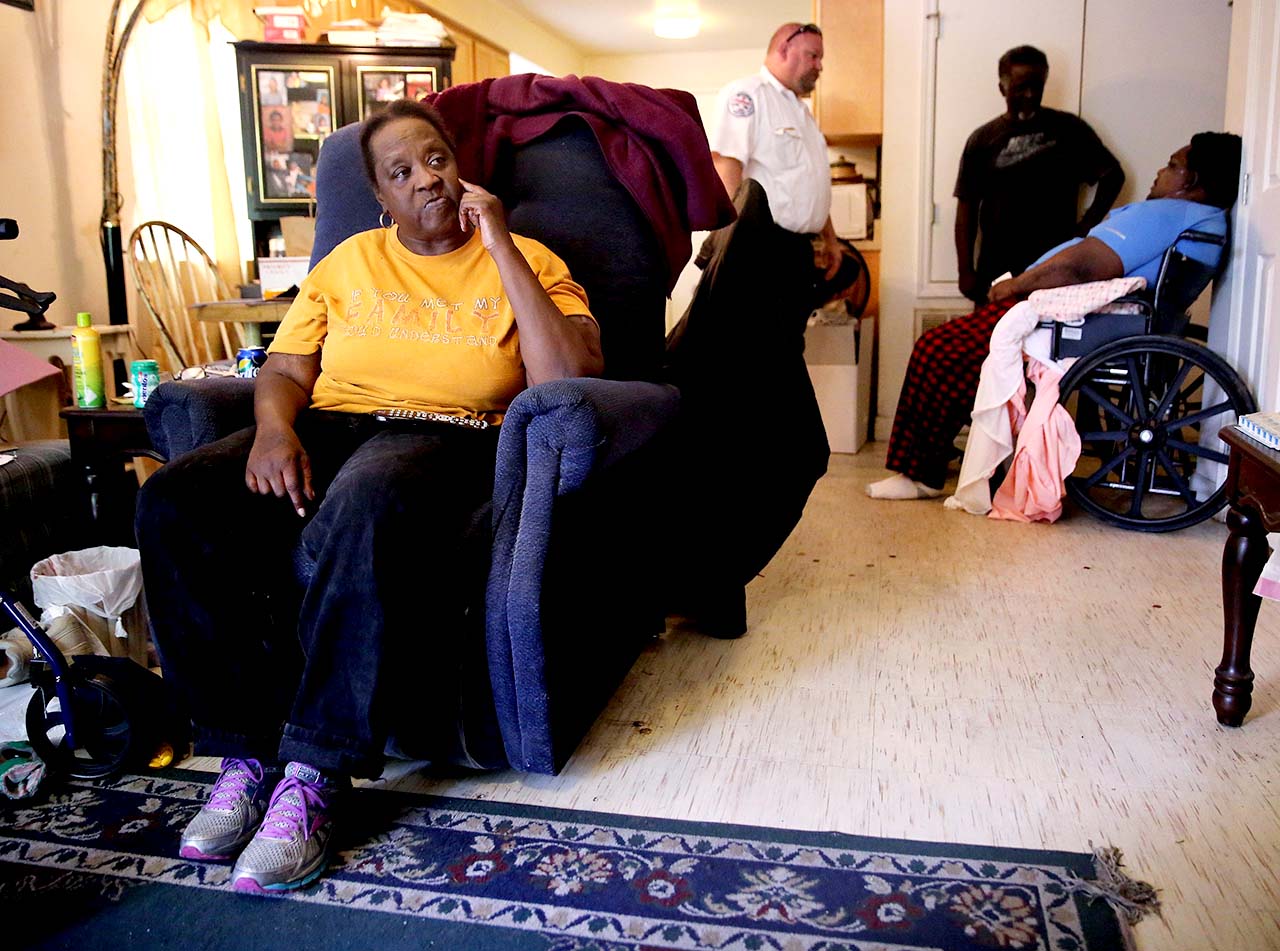 She said she'll feed him and take care of him in the coming months as they try to chart a path forward.
In her home is a room for him that has a fully functional hospital bed as well as a respirator and other equipment and medicine he'll need in the recovery process.
Because his lungs were injured in the shooting, he must wear oxygen every day.
Nursing assistants stop by each morning to help him change, bring his medicine, wash clothes and clean up.
And while TennCare covers his in-home care, other expenses are stacking up.
"I know for a fact that we've spent almost $3,000 since I've been home just on my medical supplies, like pads, [adult diapers], wipes and stuff like that," Green said in October.
In the past two years, he has spent a lot of time in bed.
With the exception of four trips to the hospital — once for sepsis and once for back spasms caused by the bullet lodged in his spine — he didn't leave his room for six months.
It's where he spent his 33rd birthday.
In January of this year, TennCare agreed to pay for a lift machine strong enough to pick Green up. Now he's able to get out of bed, which is boosting his spirits, but his family still lacks a handicap vehicle to transport him.
He also hopes to start physical therapy soon. He'd like to build his upper body strength enough to pull himself into a car — maybe even stand again one day.
The ordeal has given him a new perspective on life, family and death.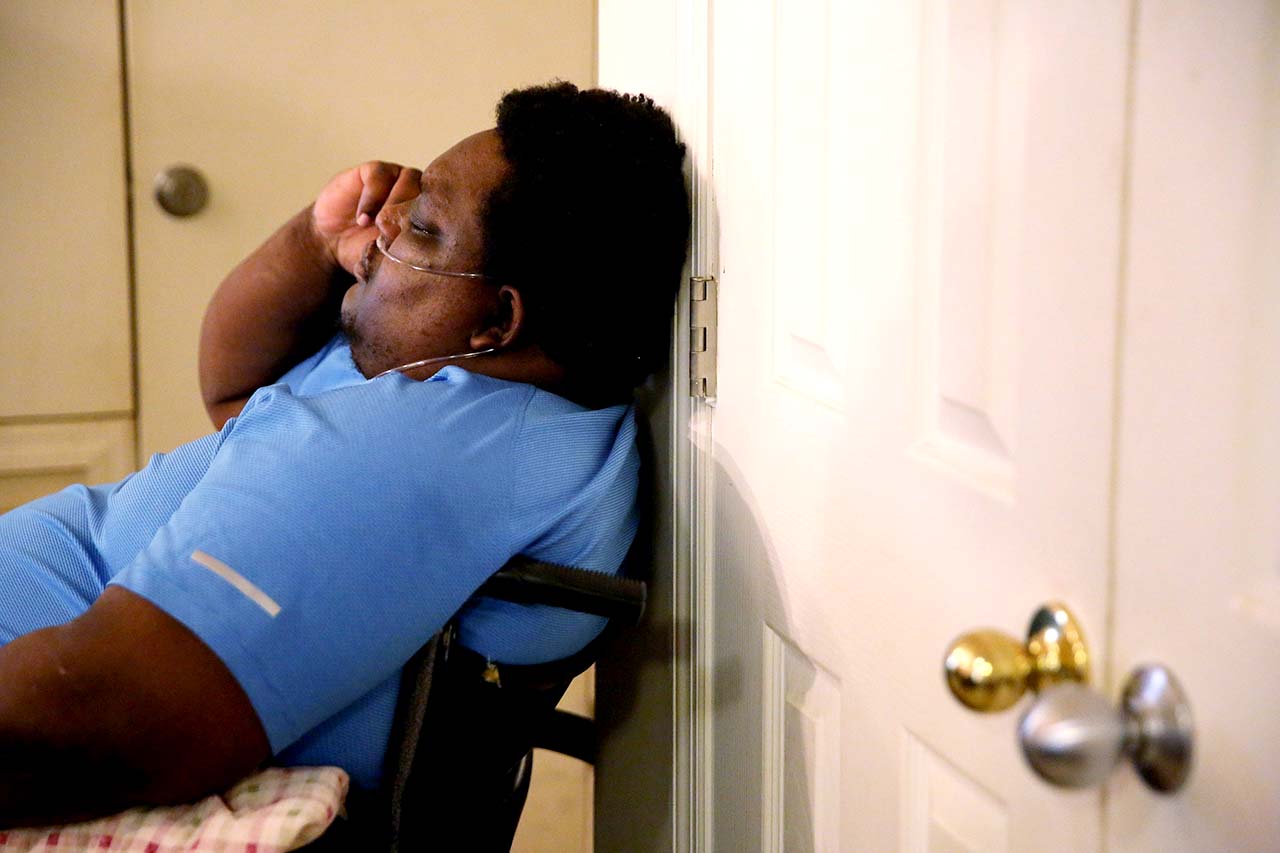 "If it's your time to go, it's time to go. Everyone has to go sometime. I'm not fixing to live in fear, because I only fear God," Green said.
"I got through those eight shots," he added. "I can get through this."