It's after midnight, and 9-year-old Timone Maurice Hooper smiles for a photograph outside the former Hitch Village public housing project in Savannah, Georgia.
He sits barefoot on a curb between Calvin Farr, 7, and Brandon Miller, 11. The boys are wearing gym shorts or boxers, while Miller also dons an oversized, white T-shirt pulled down around his knees. A strand of yellow crime tape hanging above their heads reveals this is no place for children.
It's the scene of a homicide investigation captured by photojournalist Bob Morris after a shooting nearly 19 years ago.
Meg Heap, district attorney for Chatham County, where Savannah is located, told the Times Free Press the photo has since become a symbol of the deep-rooted and cyclical nature of violence in Georgia's oldest city.
Now all in their mid-to-late 20s, the three boys are young men and no longer just bystanders to serious crime. Today, Hooper sits in federal prison accused of killing a man in 2017. Miller was indicted in a separate homicide in 2015. The youngest of the boys, Farr, was charged in May 2017 with possession of a controlled substance with intent to distribute, court records show.
When Heap's office indicted Hooper on murder charges in the death of 23-year-old Lawrence Bryan IV, public information officer Kristin Fulford searched Hooper's name on Google. That's when she found the old image. The headline read: "The Bloodiest Night in Savannah."
A year later, in August 2018, Heap sat at the conference table in her downtown office at the Chatham County Courthouse and across from Times Free Press reporters, recalling the photo and a revelation she had at the time.
"It's 1 in the morning, a body is being carted off, you live in a project — this is something he has seen all his life," she said. "We are doing everything we can, but this has been a problem in Savannah for a very, very long time."
Columnist Tom Barton wrote about the photo in the Savannah Morning News on July 22, 2017, after Heap shared the image during a crime forum hosted by the Downtown Business Association. Barton dubbed Hooper and his friends the "Lost Boys of Savannah" — young men who were unable to escape the life of violence and crime into which they were born.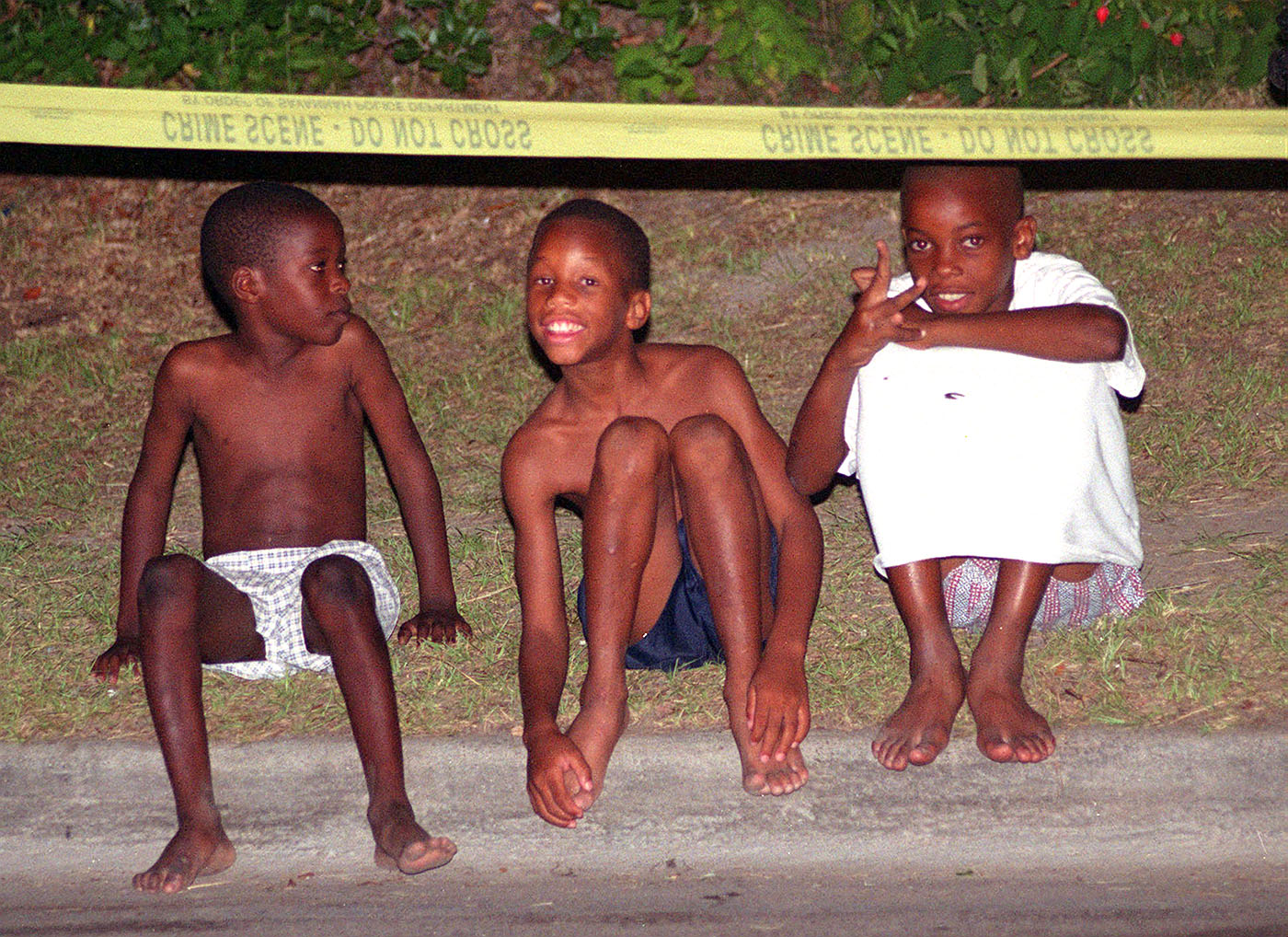 A grant from the Solutions Journalism Network allowed two Times Free Press reporters and a photographer to travel to Savannah, Philadelphia and Cincinnati to learn about ways other cities grapple with gun violence. They met with leaders, activists, victims, bereaved family members, doctors, prosecutors, social workers, former gang members, researchers, police officers and others who have been affected by the violence or are actively working to stop it.
Over the years, Savannah has implemented programs that target injured and at-risk youth in local hospitals and schools while beefing up community-based policing efforts. The idea is that, while police play a critical role, relying on law enforcement alone doesn't address the underlying reasons why a person picks up a gun and shoots another.
Like Savannah, Chattanooga and other cities across the United States face systemic issues — poverty, education inequity, housing problems, health care access, lack of resources, exposure to crime and social norms — that perpetuate violence. The reporters found many stories that echoed the "Lost Boys of Savannah."
Cities spend millions trying to reduce gun violence, often with limited success, and millions more addressing the aftermath of shootings. With an estimated annual price tag of more than $260 billion in costs across the United States, gun violence affects city tax coffers, health care costs and neighborhood home values, not to mention the lost wages of victims and their families. It also can mean the difference between a business surviving, dying or choosing to open its doors in the first place.
"Cost of the Crossfire" aims to address both the monetary costs that ensue after a bullet leaves a gun and the long-term ramifications to society. These stories are meant to underscore the unintended results of political infighting and consequences when those who make decisions in our community don't all come to the table, or they come but lose sight of the original goal: to quickly and dramatically decrease gun violence in our neighborhoods.
In 2018, there were 24 homicides in the city of Chattanooga, including those deemed "accidental" and "justified" by the Chattanooga Police Department. That's a nearly 30 percent decline from the 34 homicides the city saw in 2017 and 33 in 2016. The homicide rate last year was 13.3 per 100,000 people.
Nearby, Nashville had a homicide rate of 13.4 last year, or 93 homicides, and the city of Knoxville investigated 21 homicides for a rate of 11.2 per 100,0000, the Knoxville News Sentinel reported. Memphis had the worst homicide rate at 34 per 100,000 and a total of 222 homicides, news reports state. Numbers could vary slightly based on how a city defines homicides and reports them.
Most of the killings across the state were committed with firearms, and in Chattanooga, more than 80 percent of the homicides in 2018 were carried out with a gun.
Ted Miller, with the Pacific Institute for Research and Evaluation, has studied firearm injury costs since the 1980s. An injury and violence cost expert and economist, Miller provided the Times Free Press with data that shows both the direct and indirect costs associated with gun violence and firearm injuries nationally and in Tennessee.
Tennessee was ranked No. 7 out of the 50 states for the highest costs associated with firearm injuries at $8 billion, according to Miller's research. Gun violence costs Tennesseans an average of $1,248 per person. That's based on 2014 firearm injuries, including assaults, self-inflicted and unintentional gun injuries, adjusted for 2018 dollars.
Americans own more guns than cars, Miller explains. There were 318 million guns — more than one per person — compared to 239 million private passenger vehicles in 2013. "Misused, both are deadly," Miller said. Nationally, firearm injuries cost $5,577 per household with guns. In comparison, car crashes cost roughly the same amount at $5,732 per household with motor vehicles. Firearm-injury costs are 1.7 times the total cost for impaired driving, he said.
While the costs of firearm injuries and gun violence affect everyone, it doesn't affect everyone equally.
Some people carry guns down their streets to protect themselves from perceived threats, while others live in neighborhoods that rarely see more than petty crime.
Adolescent and adult black men, as well as people with a lower socioeconomic standing, are disproportionately affected by firearm injuries and are more likely to be seriously hurt or killed.
In Tennessee, black children are four times more likely to die from firearm injuries than white children, according to a study from Vanderbilt University Medical Center. That same study found that white children were more likely to sustain accidental injuries, whereas black children were more likely to be victims of assault.
Over the next five days, the Times Free Press will highlight ways Chattanooga and its citizens bear the cost of gun violence, as well as some potential solutions posed by experts from other cities.
In Savannah, Heap has experienced the same roadblocks as officials in Chattanooga and elsewhere have in recent years, such as funding requests that local officials denied, politicians wary of new programs and decreases in shootings and slayings followed by an uptick that was difficult to predict.
Take any two cities that are grappling with gun violence, and it wouldn't be hard to quickly find the similarities.
"You've just got to keep your foot to the pedal and push," Heap says. "Somebody has to have the driving force to say that no matter what else happens, we've got to stay focused."