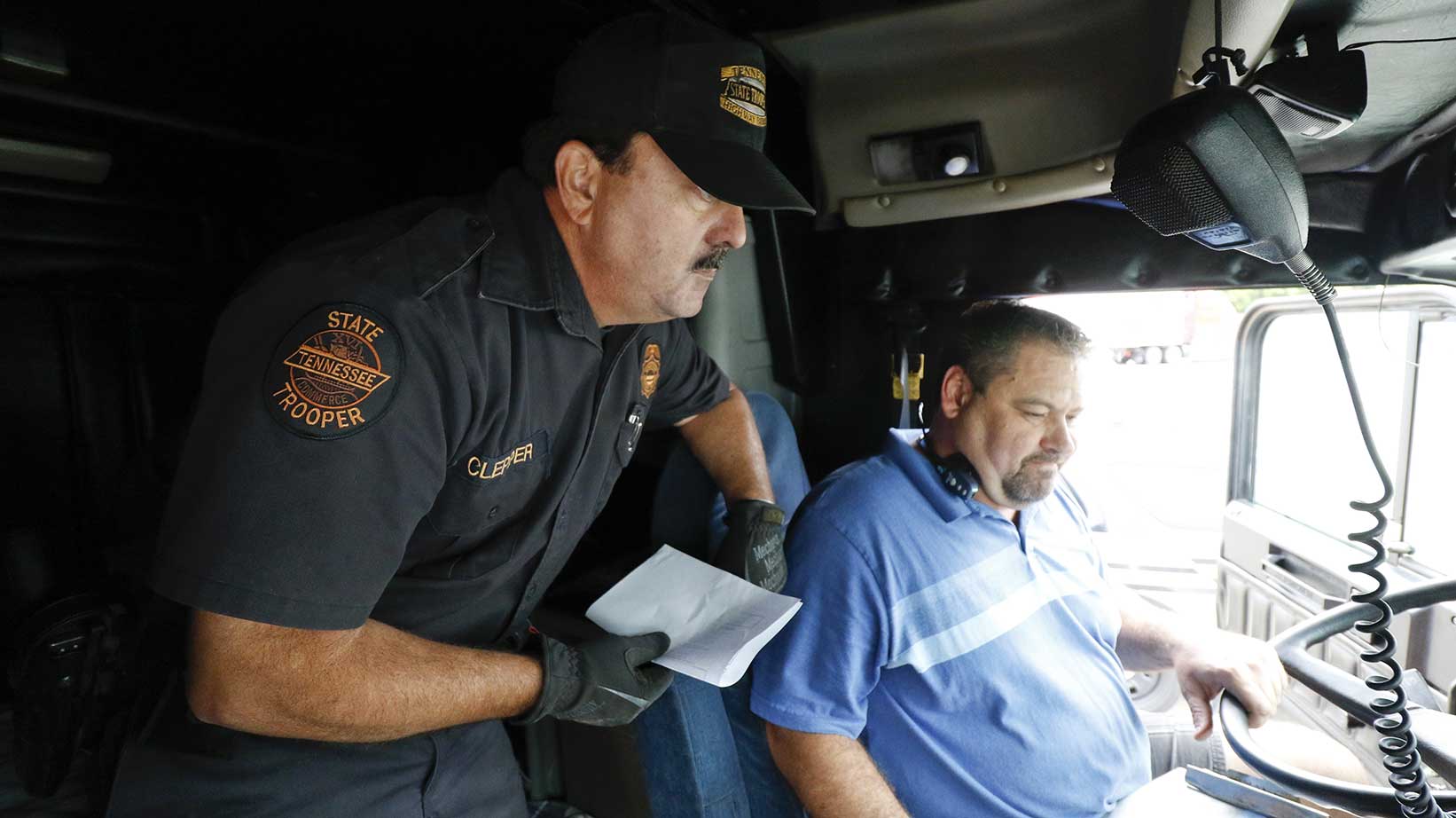 The Trucker's Bible
Federal regulations govern truckers' lives
but fail to slow truck-related deaths
Dec. 20, 2015
Chattanooga, Tenn.
R
umbling down an interstate off-ramp, Gary Helms slowed his big rig at a stop sign and craned his head forward and hard to the right, trying to see what speeding car or truck might come around an awkward, long curve blocked by trees.
A Love's truck stop was just a left-hand turn away, off the exit on Interstate 75 just north of Atlanta, and it was high time for a coffee break and a sausage biscuit.
The good thing about Love's truck stops, he said, is they have McDonald's. Always good for a breakfast stop. Helms made the left turn and — along with scores of other drivers — backed his rig into a tight, diagonal spot and punched himself out for a 30-minute break, a federal requirement as he approached eight hours on duty for the day.
For drivers like Helms, the daily grind is a daily race against the clock. When he arrived at Covenant Transport's Lookout Valley terminal that morning at 3:30 a.m. to inspect his truck and cargo, Helms' on-duty clock started. Federal regulations require all truck drivers to take a 30-minute break before reaching eight hours on duty.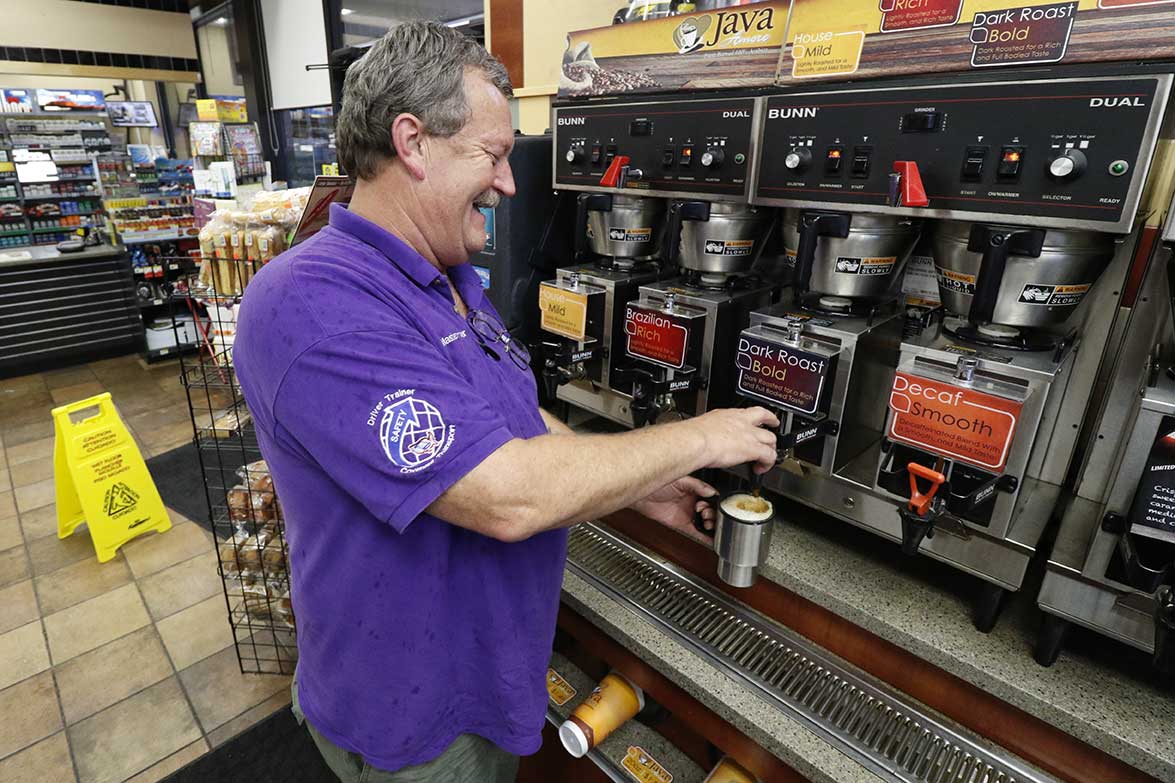 Helms is allowed to be on duty for 14 hours per day, but can drive only for 11 of the 14. The extra three on-duty hours are slotted for non-driving tasks like loading and unloading, according to the Federal Motor Carrier Safety Administration.
He can work a total 60 hours in a seven-day span or 70 hours in an eight-day span, and must adhere to a myriad of other federal rules.
The rules are in place to protect motorists from the risk that large trucks are present on the roads, and to protect drivers from fatigue and sleepiness. Federal regulators also hope to shield drivers from the demands of truck dispatchers and fleet managers, who need trucks on the road to turn a profit.
The rules are meant to help, and for the most part they do, said Helms.
But sometimes, many truckers believe the rules and regulations make more sense on paper than they do in practice.
Take, for instance, the recent hullabaloo over a "34-hour reset" provision changed by federal regulators.
Truck drivers are allowed to work only 60 hours per week, and federal regulations require drivers to take at least 34 consecutive hours off in between weeks. So Helms could put in 60 hours of work, then take 34 hours off and earn a new 60 or 70 hours of work.
But in July 2013, FMCSA officials changed the rule and declared that truck drivers not only had to take 34 hours off, but also include two "overnights" in that period — requiring drivers to be off-duty between 1 a.m. and 5 a.m. two times. The change also limited use of the 34-hour reset to once in a seven-day period.
Helms said it was the least sensible change he's seen since becoming a long-haul driver. The move pushed more trucks on to the roads during the day, when traffic is heavier and conditions more dangerous, he said.
Trucking officials screamed about the change. They said it was typical Washington, D.C., bureaucracy, proof that the people making the rules don't understand the impact they have on the road.
"Since July 2013, the new hours of service are resulting in fewer miles driven per truck allowed, and so therefore to do the same amount of miles, it takes more trucks," said David Parker, president of Chattanooga-based Covenant Transportation Group.
Parker said the changes cut productivity by somewhere between 2 to 4 percent at companies like his, the larger over-the-road carriers.
"You work with your customers and try to get as much of that back as you can, but it's a hit," he said. "It's a negative number."
In December 2014, the reset changes were temporarily suspended in a road-funding bill proposed by Republicans in the U.S. Senate. The provision was to be re-evaluated and federal officials were supposed to propose a permanent solution earlier this year, but did not.
Typical, said Parker.
The first U.S. trucking regulations were introduced in 1938, and for decades were enforced by the now-defunct Interstate Commerce Commission.
TOP FIVE MOST COMMON TRUCK DRIVER VIOLATIONS IN U.S. ROADSIDE INSPECTIONS
1. Log Violation - 154,378
2. Record of Duty Status Not Current - 78,612
3. Driving beyond 8-hour limit - 70,235
4. Speeding 6-10 miles per hour over - 59,661
5. Failing to use seat belt - 52,186
- Source: Federal Motor Carrier Safety Administration, as of 9/25/2015
Among the earliest rules were driving and duty limits, as well as the requirement that drivers maintain up-to-date log books. Some tweaks were made very early on, but then the rules went largely unchanged for nearly 70 years, until Congress mandated the creation of the Federal Motor Carrier Safety Administration in 1999 with the requirement that the new agency overhaul commercial vehicle regulations in order to bring safety guidelines up to date.
The administration launched in 2003, with a new — though very similar — set of hours-of-service regulations in hand. And for various reasons, including complaints and lawsuits, the rules have changed a handful of times since then. And every time the regulations change, Parker must tweak how he runs his company.
"The next thing you know they do a tweak, and here they've done three tweaks since 2004, and it's like guys — I do have a business to run," said Parker. "I know y'all don't care, but there is a business out here to run."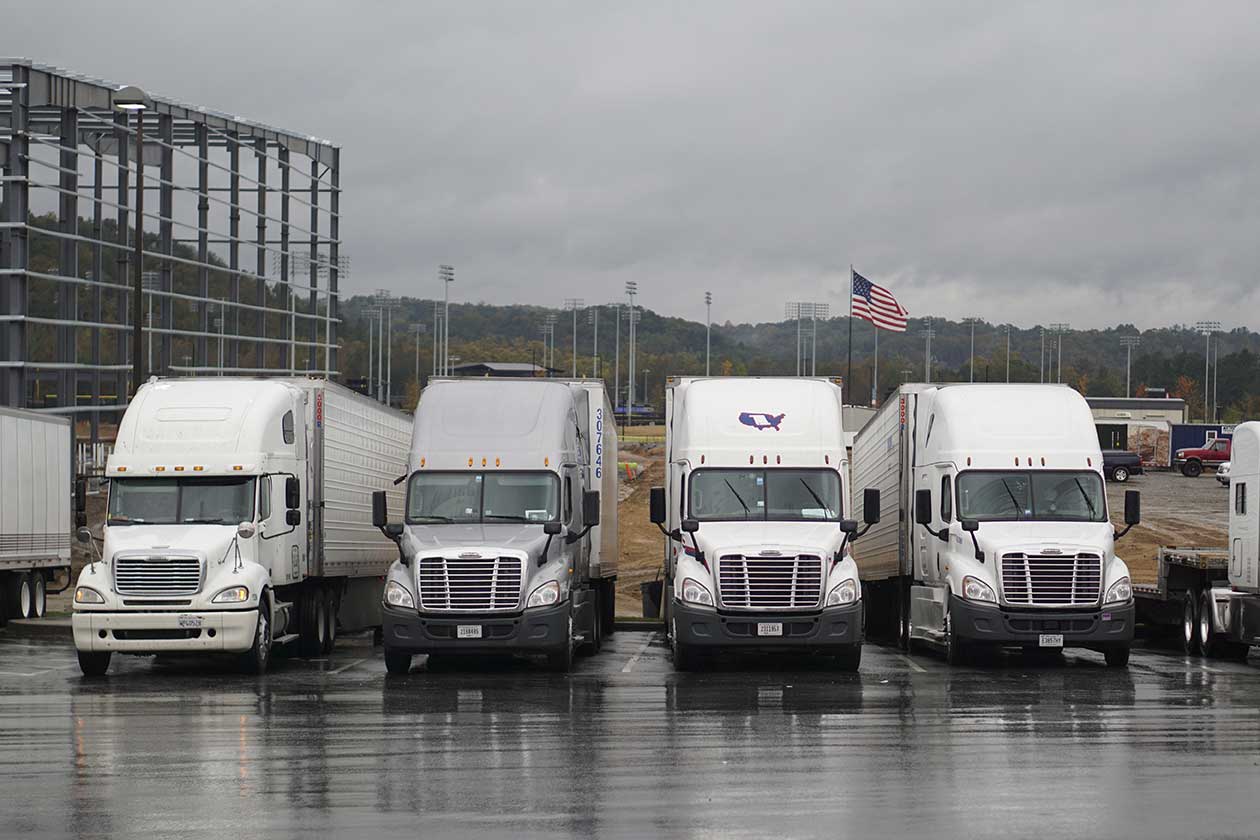 'It's not working'
One year ago, Michael Higginbotham was driving his first brand-new vehicle — a Jeep Grand Cherokee — on a local Memphis road, and in the dark, he came too fast upon an 18-wheeler attempting a U-turn in an area undergoing road construction.
Higginbotham ran under the truck, and died at the scene.
"I call it died," said Laurie Higginbotham, his mother, on the one-year anniversary of the crash. "But he actually was killed."
According to local police, the driver of the tractor-trailer that Higginbotham struck last year attempted an illegal left turn on an Interstate 240 overpass. The driver was later cited for making an illegal left turn and failure to exercise due care.
Higginbotham says her 33-year-old son's death was "entirely preventable," and in the last year she has delved into trucking regulations and safety standards and discovered alarming truck-involved crash fatality statistics. She wonders why there's so little concern over the fact that so many pedestrians and drivers — nearly 4,000 in 2013 alone — are killed in crashes involving large trucks.
She is now involved with the Truck Safety Coalition, a nonprofit partnership between truck victim and safety advocates, pushing public policy reforms and awareness.
A large part of the battle is just getting people to pay attention, she said.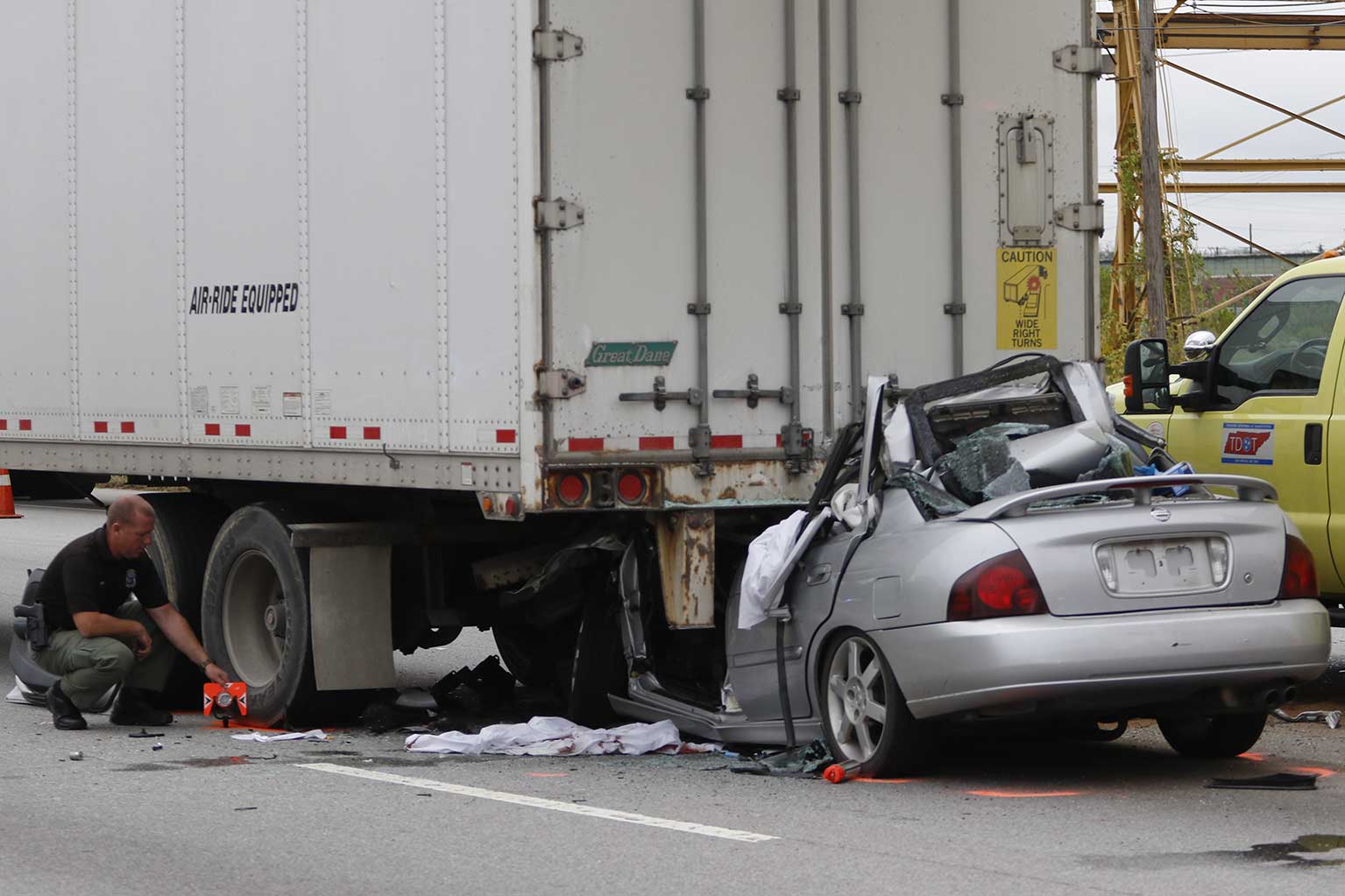 Malaysia Airlines Flight 370 went missing in March 2014 with 227 passengers onboard. Malaysia Airlines Flight 17 was shot down over Ukraine in July 2014, and all 298 onboard were killed. In November of this year, a Russian airliner was bombed and crashed in Egypt, killing 224.
Each instance led national and international news for weeks, and rightly so, said Higginbotham. But in 2013, 333 people were killed in truck-involved crashes every month in the U.S., and nobody seemed to notice.
"The same amount of people die each year in trucking accidents, about 4,000 people are killed," she said, "which would be the equivalent to about a 747 crashing every single month, and killing hundreds of people at the same time. We'd be outraged, you know, just demanding changes and what's going on?"
And even more troubling, said John Lannen, executive director of the Truck Safety Coalition, is that those numbers have been trending the wrong way since 2009, and that solutions are as difficult to nail down as ever.
"It's a bad situation, and the trend is going the wrong way," he said.
Lannen said existing regulations are too lax on drivers and current enforcement is too thin.
"I'd say that given that almost 4,000 people die every year in truck crashes and almost 100,000 people are injured in truck crashes, it's not working," he said.
Federal commercial vehicle enforcement investigators, which Lannen estimated number around 330, are overwhelmed by the task of policing the 5,000 motor carriers in the country, he said.
Also, he said, the minimum insurance required of motor carriers hasn't been raised since the early '80s, when it was set at $750,000. In 2015 money, that minimum would be $1.96 million.
"You have an agency with not a lot of resources, and you have low insurance limits and you have a lot of motor carriers," said Lannen. "You have a whole host of things."
The Truck Safety Coalition is pushing for the federal government to mandate that all commercial trucks in the U.S. be outfitted with collision-avoidance, electronic log and 65 mile-per-hour speed governor technology.
"You can deliver things on time," said Lannen. "You can deliver things efficiently and be safe."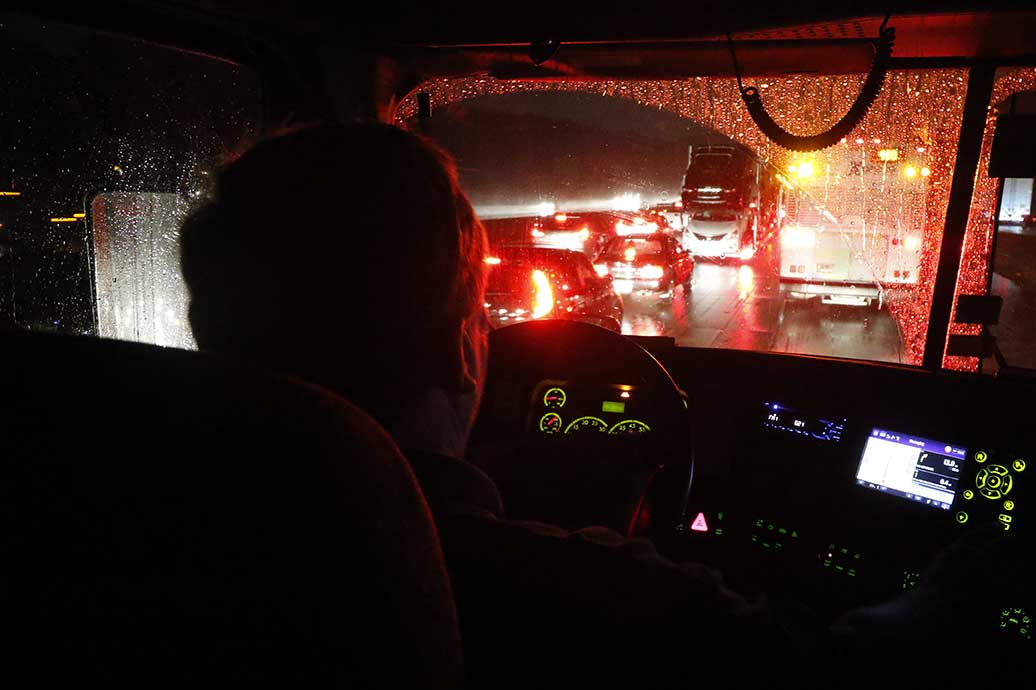 A look under the hood
On a rainy, cold afternoon, Tennessee Highway Patrol commercial vehicle enforcement officers picked out Richard Terry, owner of Ringgold-based Terry Transport, for a full-scale, level-one inspection along I-24 east on Monteagle Mountain.
Terry pulled his blue Freightliner and box trailer out of a line of rigs lined up at the highway patrol's speed and brake check station. Sgt. Allan Bailey, who'd picked the truck for the random inspection, waved him into a diagonal parking space.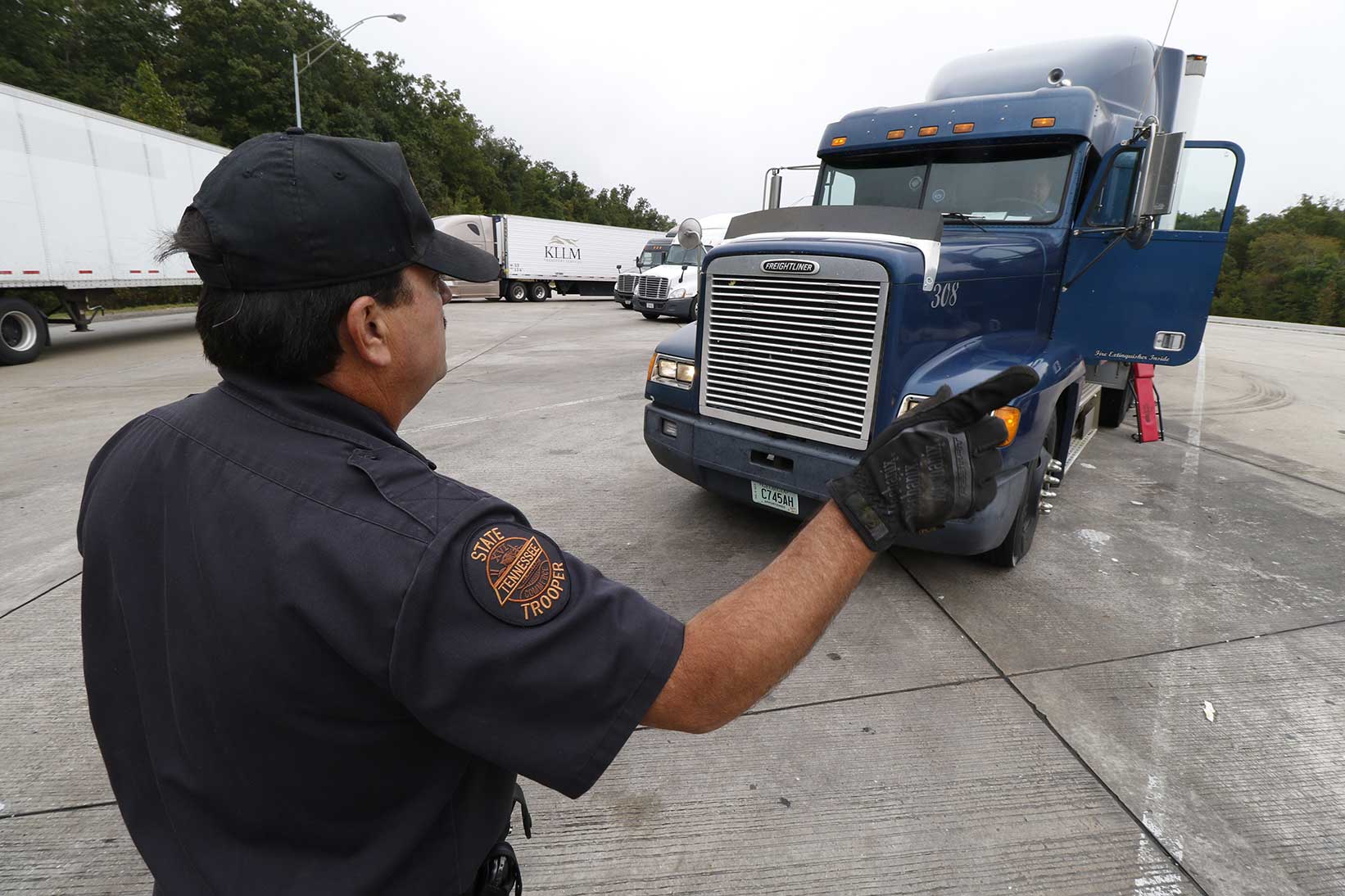 Terry has been driving for years and knows the inspection procedure well. He's been stopped between three and four times a year for roadside inspections, he said. And he doesn't take it personally.
Trooper Wade Clepper tossed chock blocks under the wheels of Terry's rig and climbed up into the cabin. He asked to see the various papers that drivers are required to keep at all times, like duty logs and insurance forms.
In such roadside inspections, the most common violations that investigators find are related to hours of service and log books — at the end of September, problems related to hours of service or log books constituted more than half of the 902,491 out-of-service driver violations inspectors found.
At the inspection station along the side of the interstate, Clepper put Terry's truck and trailer through a battery of tests. He chalked and measured the truck's steering brake rods, checked all the exterior wheels for signs of cracking and had Terry flash the truck's high beams.
Although inspections can easily last for a half-hour, most truck drivers understand, said Bailey. In fact, some — especially drivers working for large fleets — even ask to be inspected, because if there's a problem with their truck, a citation from law enforcement is the quickest way to get a company fleet or maintenance manager moving toward a fix.
"I've been sitting here and had people pull up and say, 'Hey, will you come inspect my truck?'" Bailey said.
He said in years of inspecting and dealing with commercial drivers, he has seen drivers who hate inspections, but now — in an era of increased oversight — most drivers are ready and willing to comply.
"For the most part, they're good people, and they really care about their profession," Bailey said. "I'd a lot rather deal with a truck driver than somebody in a car."
Helms says there was a time when truck drivers were, across the board, the best drivers on the road. But that those days are behind the industry, at least right now.
"It's not a fraternity like it used to be," he said. "It's a little disheartening, actually."
Over the years, he said increased regulations and oversight have pushed many old-timers out. And too many new drivers are more concerned with deadlines and paychecks than respect and their image. Helms tells all his new recruits to dress nice and keep themselves clean: you're the face of the company, he says.
He takes pride in being a trucker.
When Helms was a kid living in California, his mother's car broke down one night, leaving her and her five children stranded on the roadside — until a trucker came along.
"The only person who stopped was a truck driver," he remembers.
The truck driver took Helms and his family into town, no reward wanted or requested, and no harm committed against them. That's the kind of trucker Helms strives to be: the anti-Ben Brewer.
"For a long time, [truckers] were thought to be the white knights of the highway," Helms said. "We're not that anymore, unfortunately."