Outcomes of the college careers
of the top 50 area recruits
( 2004 - 2008)
Did they graduate from college?
Did they finish college where they signed?
Did they get playing time?
Did they play professionally?
College levels where area recruits have committed
(2004-2014)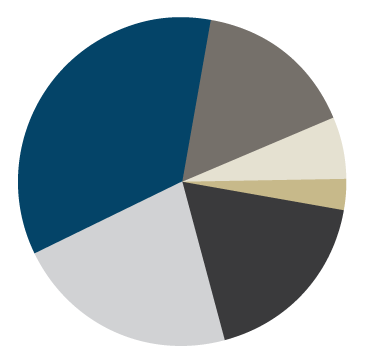 National Junior College Athletic Association
National Association of
Intercollegiate Athletics
Football Championship
Subdivision
Football Bowl Subdivision
Top colleges for area recruits
(2004 - 2014)
1. Carson-Newman (41)
2. UTC (39)
3. Tusculum (33)
4. Tennessee (13)
5. Tennesse Tech (13)

Before this day, these teenagers measured their vertical jumps, clocked 40-yard dash speeds and chugged Muscle Milk to put on five extra pounds.
They bled from broken noses, soaked injuries in ice baths and prayed the hard hits on the field wouldn't derail their season.
They collected their own highlight reels to promote their skills to coaches who didn't know their names, posted their proud moments on YouTube and traveled states away to attend grueling camps where they measured themselves against the nation's best.
Most high school football players put their pads away in the fall of their senior year, but the lucky ones tape college recruitment letters on their bedroom walls and see their careers live on to the first Wednesday in February.
In the past decade the explosion of social media has given college recruiters access to a bevy of talent. ESPN devotes more than 10 hours of airtime to high school football players making their announcements, replete with expert analysis and commentary. Major websites such as Rivals.com and 247Sports.com rake in millions of dollars each year in subscription fees tracking high school and college athletes' statistics and performance.
Last year, a smiling Vonn Bell put on an Ohio State University ball cap in front of a packed auditorium at Ridgeland High School in Rossville while ESPN cameras rolled.
But for most, signing day is a private ritual. Many of these young men have already made their choices. Parents, best friends, teammates and coaches crowd around to watch pen touch paper in living rooms or high school gyms. The National Letter of Intent is faxed.
It's an end and a beginning. And for these recruits, the stars of their small towns, the pride of their families, it's a day when anything seems possible.
In a few short years they could hear the phone ring and learn they've been drafted to play professional football like former area stars Jacques McClendon did in 2010 or Kris Durham in 2011.
Or they could fail. Sit on a bench or stumble in the classroom.
Touchdowns made, diplomas earned, scholarships lost, drug tests failed — all possibilities for the 38 who signed this past week with a college team.
Of the top 50 local recruits in the last decade, nearly all saw playing time, more than half stayed at the school they signed with and 64 percent graduated from college. A quarter went on to play football professionally, an analysis by the Times Free Press shows.
Fans who watch signing day festivities imagine some of these green players will go on to make records and lead championship teams.
But early success doesn't always equal later greatness. The next level can be daunting, on the field and off.
"This is from one of my coaches: They're gonna use you so you might as well use them. Work hard on the field but don't forget the classroom."
Keith Williams – LaFayette High School '04
Played at the Air Force Academy and graduated
"Take full advantage of your opportunity because not many people get it. One thing I wish I would have done differently was redshirted, got acclimated to academics, the games."
Marcus Jones, – Dalton High School '05
Played for and graduated from Duke University
"Look at all your options. Just because a big school might show you some attention, the big school might not be the perfect place for you."
Walter Dozier, Jr. – McCallie School '07
Played one year at Middle Tennessee State University


The 2004 signing day was somewhat lackluster for Keith Williams — it made him late for basketball practice.
Williams got a lot of interest from a variety of schools after playing tight end and defensive end at LaFayette High School but he saw offers from only a few.
He'd gone to see games at the University of Georgia, the University of Tennessee at Chattanooga and Samford University. But it was a week after visiting the Air Force Academy in Colorado Springs, Colo., when he made up his mind.
"I decided to give it a shot and see how it works and in the end it did," Williams said.
He spent five years at the academy, playing first on defense before becoming a starter at offensive tackle.
Military life was a definite change, but football practice was a little easier on him.
He didn't have a backup for his position in high school, so he was in the mix on every snap. In college he got a breather. The altitude change was tough, but summers weren't as hot in the Centennial State as they were in Georgia, he said.
Williams graduated and serves as a captain in Grand Forks, N.D.
— Todd South
LaFayette High School
Class of 2004
Air Force Academy
Nearly a decade after Marcus Jones finished playing high school football, the former quarterback's uncanny understanding of the game is still remembered by one of his local coaches.
David Gann worked with Jones for just one year, but at their first offseason passing league scrimmage, the coach saw something special.
Jones had transferred from Baylor to Southeast Whitfield High School because he wanted to play quarterback. In 2004, Gann taught Jones the team's offensive game plan in about 20 minutes on the bus ride to his first scrimmage.
The young player took the first snap and didn't look back.
He was courted by Texas A&M University but chose Duke University for its academics and so that his family could come see him play. Jones played four years, starting at quarterback and finishing at linebacker. His senior year he got back to baseball, which he'd not played since high school.
The Baltimore Orioles came calling and Jones played on their rookie-level baseball team in Florida before switching back to football for semi-pro play in Georgia. He finished his professional athletic career with Georgia's Columbus Lions.
Jones now works as a finance manager in Savannah, Ga.
— Todd South
Southeast Whitfield County High School
Class of 2005
Duke University

What Stephaun Raines expected on Feb. 1, 2006, wasn't at all what happened in the coming months.
A standout wide receiver for Dalton High School, Raines recalls everyone telling him how much fun college football was going to be, how talented he was at both wide receiver and defensive back and all of the opportunities ahead with the University of Tennessee Volunteers.
But after his signing day, Raines had trouble with his schoolwork, falling a few points short of the ACT requirements. He failed to get into Tennessee.
Coach Phillip Fulmer wanted to give Raines another chance and told him that if he could get his grades up, he could wear orange.
So on a January day, nearly a year after signing, Raines boarded a bus for a 26-hour ride to Coffeyville Community College in Kansas.
The two-year school would provide a rough wake-up call. There were no coaches ensuring he was going to class, no plush, athletes-only dorms as he saw on his visits to big football schools.
But Raines buried himself in books and the gym. He reeled through more than 60 credit hours in three semesters, and in two years he was back in Knoxville, where he played special teams and finished his undergraduate degree.
He now works as an account manager for Komatsu, is the father of a new baby girl and coaches young athletes in his spare time.
— Todd South
Dalton High School
Class of 2006
University of Tennessee

A heralded wide receiver out of Calhoun High School, Da'Rick Rogers was ranked second in the nation at his position before he committed to the University of Georgia.
Calhoun's head coach, Hal Lamb, who has coached the team to regular state playoff wins and a state championship and sent dozens of players into college football, called Rogers "probably the most talented player I've ever coached."
But when signing day 2010 came, Rogers switched to the University of Tennessee, where he spent two seasons. He started at wide receiver as a true freshman. In his sophomore season he led the Southeastern Conference in receptions and receiving and was named first-team All-SEC.
But at the start of the 2012 season he was suspended from the team. He later admitted to failing three drug tests while at Tennessee.
Rogers transferred to Tennessee Technological University, where he played one season, racked up single-game records and passed multiple drug tests.
He was signed by the Buffalo Bills in 2013 after a stellar performance at the NFL Combine, an optional testing period for players who seek to join the league.
The Bills cut Rogers early in the 2013 season but he was quickly picked up by the Indianapolis Colts. He had six catches for more than 100 yards against the Cincinnati Bengals.
— Todd South
Calhoun High School
Class of 2010
University of Tennessee

From his time here at Baylor, through college and now in the professional ranks, Jacques McClendon has been a formidable force.
A three-year starter in high school, McClendon played on both the offensive and defensive lines and caught passes as a tight end.
McClendon was named to Parade Magazine's All-American team in 2005 and was selected to play in the 2006 U.S. Army All-American Bowl.
He lettered for four years at the University of Tennessee, where he played tackle and guard and set a weight-room record with a 645-pound bench press. He was part of an offensive line at the college that, in 2008, allowed the fewest sacks in the nation.
The Indianapolis Colts drafted McClendon in the fourth round in 2010.
He played in four games as a rookie. He has since played for the Detroit Lions, Pittsburgh Steelers and Atlanta Falcons. At Atlanta he transitioned from guard to center.
He is now with the Jacksonville Jaguars.
— Todd South
Baylor School
Class of 2006
University of Tennessee

It was the biggest news to hit Stevenson, Ala., since the county voted to go from dry to wet nearly 20 years before. On signing day 2009, nearly 1,000 people crammed into North Jackson High School's gym as shopkeepers closed early, classes were excused and two busloads of middle school kids were brought in. Everyone came to witness their hometown hero, Tana Patrick, announce where he would sign scholarship papers.
Patrick, a two-time state Mr. Football award winner, a U.S. Army All-American and rated the nation's fifth-best linebacker by multiple recruiting services, had narrowed his list offers to three — Alabama, Auburn and Tennessee.
As around 25 media members readied their video cameras and notepads, the gym erupted into applause and chants of "Roll Tide!" when Patrick declared he would play for Alabama.
"I knew I wanted to play in the SEC and be close enough to where my family could come watch me," said Patrick, who helped Alabama win three national championships in his college career.
He is now preparing for the NFL draft, but if that doesn't happen, he said he will put his degree in hotel and restaurant management to use by opening a barbecue restaurant in Chattanooga.
— Stephen Hargis
North Jackson High School
Class of 2009
University of Alabama

While it wasn't the way he had originally planned it, Joel Bradford wouldn't trade the end result for anything. As an all-state wide receiver at McCallie, Bradford had planned to sign with either Furman University or Austin Peay State University in 2007.
But coaches who held out the possibility of scholarship offers gave them to players. So Bradford decided to stay home and went with the University of Tennessee at Chattanooga.
"I always thought I would go away to play college ball, but the closer it got to signing day, the more things started pointing toward me staying and playing for my hometown school," Bradford said.
He became a two-time All-Southern Conference receiver and earned All-American honors as well, setting the Mocs' single-season receiving record (1,284 yards) and leaving with the two highest single-game performances (254 yards and 274 yards) in program history. He returned to McCallie, where he is an assistant football and soccer coach and works in the learning center.
"My mom convinced me that it was meant to be for me to go to UTC because of all the things that happened leading up to signing day," Bradford said. "I guess she was right."
— Stephen Hargis
McCallie School
Class of 2007
University of Tennessee Chattanooga

His on-field talent had made dozens of college coaches interested in him, but it was the extra attention given to his academics by the Tennessee State University staff that helped former Howard School star Rico Council decide where he would sign.
The 2007 signing day was exciting, Council said, but he knew he still wasn't eligible.
"My grade-point average was good, but leading up to signing day, I hadn't passed the ACT yet," Council said. "But the TSU coaches really worked extra hard to make sure I knew they were supporting me and believed in me. That's what helped me decide to sign with them and when I got the ACT score I needed, everything fell into place for me."
A three-time all-state linebacker at Howard, Council continued to shine on the field at TSU, starting all but one of the 45 games he played during his career. He played briefly in the NFL with the Atlanta Falcons and Tennessee Titans before deciding to pursue a new career as a teacher and coach.
"It was a big accomplishment for me to get there, and to know I had a free education waiting was what drove me every day to do whatever it took," he said.
— Stephen Hargis
Howard High School
Class of 2007
Tennessee State University

Signing day 2007 at the McCallie School was a crowded event.
Walter Dozier, a talented wide receiver, was surrounded by fellow teammates — B.J. Coleman, Joel Bradford, Thomas Green and Anthony Conney, all also signing their letters of intent.
Dozier had finally decided between two schools at 3 a.m., hours before signing his intent letter. The University of Memphis was his early favorite, but a convincing coach from Middle Tennessee State University pulled him to the closer-to-home school.
But before Dozier moved into his dorm room, the coach who recruited him left for the NFL. Then, early in his first season, Dozier had to have surgery to extract four wisdom teeth. In the high-speed world of college football he fell behind fast and didn't catch up.
He left MTSU, thinking he could sit out and maybe go back to play somewhere else.
But in 2008 he became a father, and then in 2010 he was charged with aggravated robbery. People in the house said he and two other men robbed them at gunpoint. Dozier said that's not what happened.
A prosecutor dismissed nearly all of the charges after Dozier pleaded to simple robbery and agreed to a suspended sentence.
He's since worked with a nonprofit mentoring program called Fatherly Figures, which encourages men in challenged communities to work with fatherless youth.
— Todd South
McCallie School
Class of 2007
Middle Tennessee State University
One of the most successful recent area football recruits didn't even have a signing day.
A week after playing for Calhoun High School in the 2005 state championship football game, Kris Durham was on campus at the University of Georgia, trying to keep up with NFL-bound teammates.
The first days were a whirlwind of meetings, playbooks, faces he'd been watching on TV weeks before, and a lot of confusion.
He sweated beside players he'd seen recruited by football programs across the nation.
"Once you get to practice, none of that means anything," Durham said. "Just go out there to play the game. I'm out here trying to earn a job."
Durham stayed on task in the classroom and avoided off-campus pitfalls that trap a lot of college players at big-time programs such as Georgia's.
He credits his upbringing and the school's easy-to-access support system.
"They don't set you up to fail," Durham said. "You go in, you go to work. You do what you're supposed to."
And the work paid off. In 2011 he was drafted in the fourth round by the Seattle Seahawks. He spent one season there before being picked up by the Detroit Lions, where he still plays.
— Todd South
Calhoun High School
Class of 2006
University of Georgia

back to top
back to top
back to top
back to top
back to top
back to top
back to top
back to top
back to top

back to top
STORIES OF TEN LOCAL RECRUITS